First Minister Nicola Sturgeon has said her thoughts are with workers at the closure-threatened Michelin tyre factory in Dundee as she pledged to leave "no stone unturned" in attempts to secure its future.
Speaking at First Minister's Questions, she said: "This news this week has clearly been devastating for the 845 workers at Michelin and for their families and the wider community in Dundee. My thoughts are with all of them at this time.
"Let me be very clear, as Derek Mackay was in this chamber earlier in the week, that we will do everything we can to find a sustainable future for this plant.
"Our absolute priority is to pursue options for the site to continue with commercial production and we will leave no stone unturned in working with Michelin, with Dundee council and with other partners to secure a positive future for the plant, for its workers and for the wider community."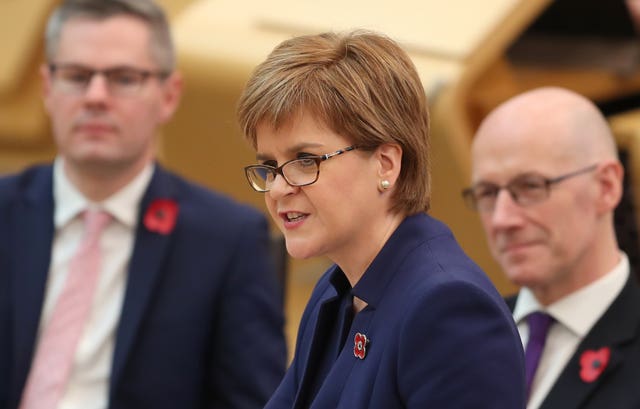 Scottish Liberal Democrat leader Willie Rennie said: "Michelin has been a giant presence in the city of Dundee.
"We need to do everything we can through the Tay City deal and other measures to keep as many jobs in the city as possible.
"When Michelin pulled out of their Ballymena plant, there was a decent redundancy deal for the workers that paid proper respect to their service – workers deserve that.
"Will the First Minister make sure that any Dundee workers that are made redundant get that Ballymena deal or better?"
She replied: "If redundancies are inevitable here, then we will want to see workers getting the best possible deal and Michelin, as I understand it, have already given commitments that that will be the case, but we don't want, at this stage, to assume that that is an inevitable outcome."
Michelin bosses have given Finance Secretary Mr Mackay until the end of the month to come up with a plan that could save the site.
He will have a further meeting with the tyremaker in the coming weeks to put an alternative proposal to them, following their announcement on Monday of plans to cease operations at the site, which opened in 1972, by mid-2020.
The company said the market for premium smaller tyres such as those produced at the Tayside factory has dropped significantly due to an increase in cheap imports from Asia and a shift to larger car tyres.