Britain and the EU are "almost within touching distance" of striking a Brexit deal, Theresa May's de facto deputy has said.
After talks in Brussels continued late into the night for a second successive day, Cabinet Office Minister David Lidington said an agreement was still possible this week.
However, with the negotiations now down to the most difficult issues, he said that there had to be a "measure of caution".
Mrs May is briefing senior ministers on the progress of the talks at the weekly meeting of the Cabinet in Downing Street on Tuesday.
Mr Lidington confirmed the final issues still to be resolved included the so-called Northern Ireland "backstop", intended to ensure there is no hard border with the Republic in the event of a no-deal Brexit.
He said: "We are not quite there yet. This was always going to be an extremely difficult, extremely complex negotiation, but we are almost within touching distance now.
"But as the PM has said, it can't be a deal at any price. It has got to be one that works in terms of feeling we can deliver on the referendum result and that is why there is a measure of caution."
In her annual address to the Lord Mayor's Banquet on Monday, the Prime Minister confirmed the negotiations were approaching the "end game", but said there were still "significant" issues standing in the way of an agreement.
If there is no deal by the end of Wednesday, the prospects of a special Brexit summit in Brussels in November will recede sharply, further reducing Mrs May's chances of getting a vote in Parliament before Christmas.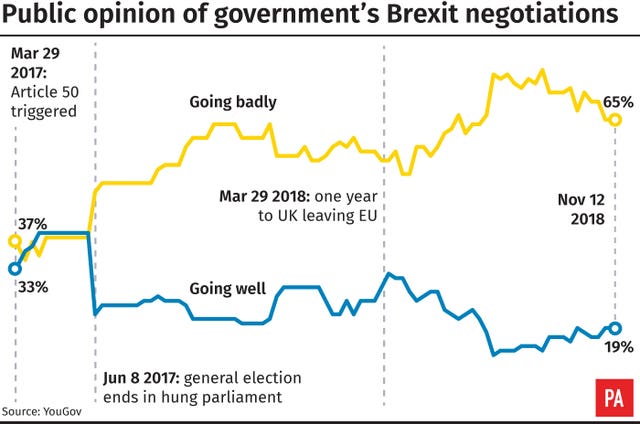 "I am not going to put dates to particular ascribed actions," he said.
He added however: "There does come a point at which contingency plans have to be stepped up simply so that in that eventuality, the preparations have been done.
"You may have to run the two things in parallel."
Mrs May faces continuing unrest among Brexiteer ministers who fear she is preparing to give too much ground to Brussels in her efforts to get an agreement.
Around half a dozen ministers, including Brexit Secretary Dominic Raab and Environment Secretary Michael Gove, are prepared to tell her that leaving without a deal would be better than the proposals on the table from Brussels, according to The Daily Telegraph.
The group was said to have met for drinks at International Trade Secretary Liam Fox's office on Monday night to discuss their concerns, ahead of the Cabinet meeting.
In her speech at Guildhall in London, the Prime Minister said that while both sides in the talks wanted a viable withdrawal agreement, "what we are negotiating is immensely difficult".
She added: "Overwhelmingly, the British people want us to get on with delivering Brexit, and I am determined to deliver for them.
"I want them to know that I will not compromise on what people voted for in the referendum. This will not be an agreement at any cost."