Inflation was unchanged in October as higher prices for utilities and petrol were offset by a slide in food and clothing costs.
Figures from the Office for National Statistics (ONS) show the Consumer Prices Index (CPI) held steady at 2.4% in October.
Economists had been expecting inflation to rise to 2.5%.
The ONS' head of inflation Michael Hardie said: "Prices paid by consumers continued to rise at a steady rate with falls in food and clothing offset by rising utility bills and petrol, as crude prices continued to rise.
"House price growth ticked up a little as increases in Wales, Scotland and the midlands were to some extent offset by falls in central London."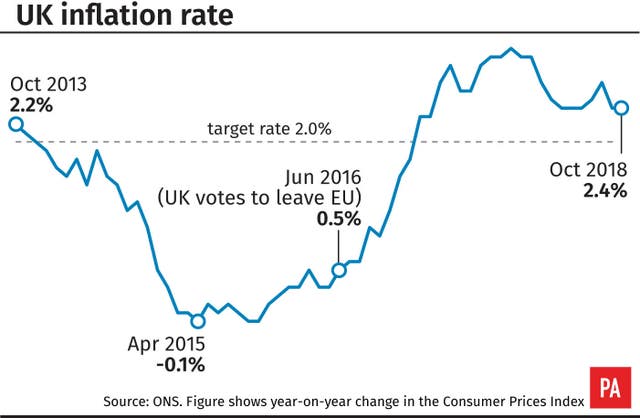 Sterling held firm at 1.15 euros.
Food price growth cooled off following rapid inflation this time last year, continuing a trend seen in September.
Prices for oils and fats dropped by 6.3% compared to the previous month, while milk, cheese and eggs were down 1.4%.
Overall food and non-alcoholic drink prices declined by 0.2% in October.
Clothing and footwear also put downward pressure on the overall rate, dipping by 0.5%.
Footwear in particular weighed on the sector with a monthly decline of 1.3%.
But consumers' wallets were hit by higher utilities and petrol costs.
Gas and electricity prices both jumped by 2%, while liquid fuels jumped by 7.2%.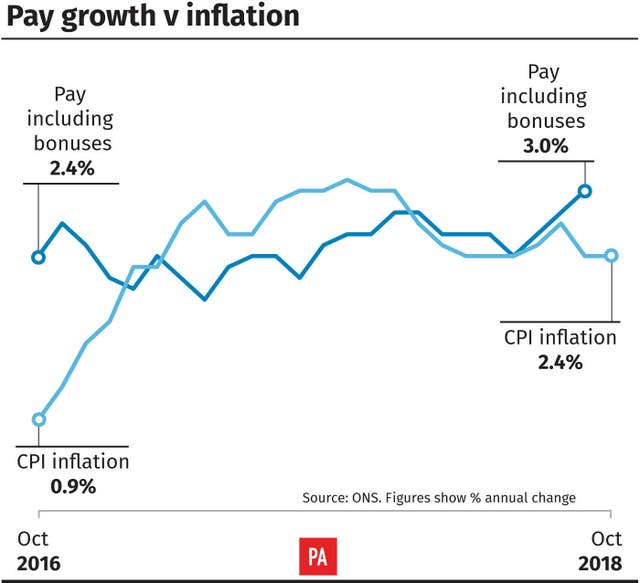 At the pumps, motorists were also facing higher costs last month, with petrol up by 0.4p per litre on the month to 130.7p per litre.
This was the highest level in almost four years, with prices last seen higher in July 2014 when it was at 131p.
Diesel also rose by 1.8p to 136.1p, the highest since May 2014.
Households also faced higher prices for recreation and culture, climbing 0.7% on the month.
This included a 1.7% rise in books and a 2.3% jump in games, toys and hobbies.
But transport services continued a downward trend, dropping 2.6% in October as train and ferry tickets fell by 1.4% and 8.1% respectively.
"Brexit is still the elephant in the room when it comes to the future path of inflation, and consequently of monetary policy," he said. "That's because the pound now waxes and wanes with the Brexit negotiations, and that has a big impact on how much UK consumers pay for imported goods."
PwC's senior economist Mike Jakeman said: "Inflation is likely to continue to slow in the coming months, reflecting a broader cooling of the economy since the summer, a stumbling housing market in London and the effects of the Bank of England's interest rate increase in August.
"We expect inflation to slow to the central bank's 2% target, and, for as long as this trend persists, would rule out another rate hike in the short term."
The Consumer Prices Index, including owner-occupiers' housing costs (CPIH) – the ONS's preferred measure of inflation – was 2.2% in October, unchanged from September.
The Retail Prices Index (RPI), a separate measure of inflation, was 3.3% last month, unchanged from September.