Thongs and placards were held aloft in Belfast on Thursday in solidarity with protests in the Irish Republic earlier this week over how rape trials are conducted.
A recent case in Co Cork sparked outrage after a defence barrister referred to the 17-year-old complainant's underwear during the trial, in which a man was acquitted of rape.
During the protest in Belfast, which follows other protests in cities across Ireland, thongs were attached to a number of the placards along with the words "this is not consent".
The case was brought to wider public attention on Tuesday when Irish politician Ruth Coppinger held up a thong in the parliament chamber to highlight the outrage felt by some sections of the public.
The handling of a high-profile trial of Ulster Rugby players in Belfast earlier this year also sparked public debate and protests across Ireland.
Paddy Jackson and Stuart Olding were acquitted of rape.
The case led to an independent review led by retired appeal court judge Sir John Gillen into how the criminal justice system in Northern Ireland deals with serious sexual offence cases.
A popular social media campaign was sparked by the fall-out from the Cork case with women from Ireland and abroad posting pictures of their underwear with the hashtag #Thisisnotconsent.
On Thursday up to 100 women and men gathered during the lunch hour at Belfast City Hall to take part in chants including: "My little black dress does not mean yes".
The event, organised by a number of feminist organisations including ROSA, includes speeches from seven female speakers.
Compere Cerys Falvey opened speeches urging the building of a movement.
"We have seen protests across Ireland saying this is no longer acceptable so what we need to do now is build a movement and fight back."
Anne Orr of ROSA said it was correct for the protest to take place to show anger at what happened in Cork.
She added: "Yesterday people also took to the streets of Dublin and Cork and across the south to show that this is not okay, people's underwear is not consent, what we wear is not consent, it has nothing to do with consent.
"It is not just here, people internationally are getting angry and rightly so."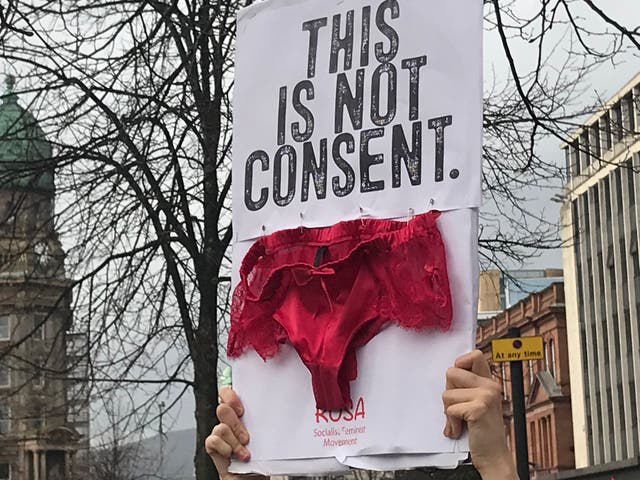 "Today we are all reminded of the Ulster Rugby rape trial, when at that time we wondered, why is it never his underwear that is brought out in court," she said.
Carmel Gates of the trade union Nipsa said there cannot be silence on the issue, adding: "It is unfortunate that we are here again talking about women's underwear as an issue in the courts, and it is an absolute disgrace.
"We cannot stay silent, some people ask me what's the point in protesting, there is every point in protesting because if we are not here on the streets to shine a light on the injustice, then the injustice continues.
"We need to be fighting it in protest, we need to be fighting it in action and struggle in our workplaces, our students union, everywhere we have a voice we need to fight and struggle to change the system."
People Before Profit representative Fiona Ferguson also said: "What message are courts sending out to victims of sexual assault, the court in Cork, what message are they sending to sexual assault victims. Sexual assaults are on the rise but prosecutions are still shockingly low, why would any woman be encouraged to report, to have her underwear paraded around a court room."