Jeremy Corbyn has hit out at Theresa May's "leap in the dark" draft Brexit deal and warned it cannot be put to Parliament.
The Labour leader also said the Government is in "chaos" after describing the draft withdrawal agreement and the outline political declaration as a "huge and damaging failure".
Replying to the Prime Minister's Brexit update, Mr Corbyn told the Commons: "After two years of bungled negotiations the Government has produced a botched deal that breaches the Prime Minister's own red lines and does not meet our six tests.
"When even the last Brexit Secretary, who theoretically at least negotiated the deal, says 'I cannot support the proposed deal', what faith does that give anyone else in this place or in this country?
"The Government simply cannot put to Parliament this half-baked deal that both the Brexit Secretary and his predecessor have rejected.
"No-deal is not a real option and the Government has not seriously prepared for it."
Mr Corbyn went on: "The withdrawal agreement is a leap in the dark – an ill-defined deal by a never-defined date."
The Labour leader told MPs that the backstop "insurance policy", as Mrs May put it, would create a "de facto border down the Irish Sea".
He said: "In fact the list of EU measures that continue to apply to the UK in respect of Northern Ireland runs to 68 pages of the agreement, this affects VAT declarations and rules of origin checks."
Mr Corbyn also said it was "clear the Prime Minister's red line regarding jurisdiction of the European Court of Justice had also been torn up".
He said: "By 2021 under the Prime Minister's plan, we will either be in a backstop or still in transition.
"It is utterly far-fetched for the Prime Minister to say this plan means we take control over our laws, money and borders."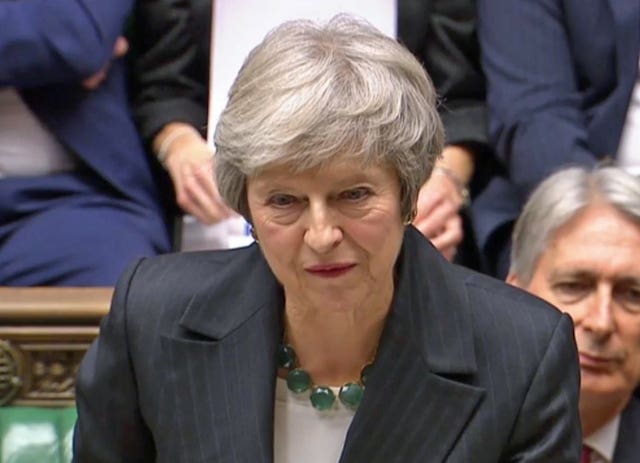 She said: "He is wrong in saying we will have not dealt with the issue of the border down the Irish Sea. We have dealt with that and I was clear in this House that we would.
"It took some considerable time to persuade the EU to move from its proposal from a Northern Ireland-only customs territory to a UK-wide territory but we have achieved that."
Mrs May questioned whether Mr Corbyn had read the same document, listing what she said were his errors.
"I'm really not sure what document he read," she said.
"There is indeed a choice before members of this House – it is a choice of whether or not we go ahead with a deal that does deliver on the vote, while protecting jobs, while protecting our security and while protecting our union."
The SNP's Westminster leader Ian Blackford said the draft deal was "already dead in the water".
Mr Blackford said: "One hundred mentions of Northern Ireland, mentions of Gibraltar, of Cyprus, of the Isle of Man, but no reference to Scotland. Utter contempt has once again been shown to the Scottish Government, its parliament and its people."
Mrs May later acknowledged the mechanism for withdrawing from the Irish border backstop "does require mutual consent, it is for both sides to agree that".