Northern Ireland Secretary Karen Bradley has made clear a no-deal Brexit will deliver customs and regulatory checks on the island of Ireland.
She stressed that, while the UK Government is committed to working to avoid a hard border, World Trade Organisation (WTO) rules are "very clear" and checks would need to be carried out on consignments passing between two customs territories on a contemporaneous basis.
The Conservative MP also suggested that UK and EU commitments outlined in last December's joint report on maintaining the Common Travel Area – an agreement which allows free movement for UK and Irish citizens in Britain and Ireland – would also be thrown into doubt in a no-deal scenario.
Ms Bradley, who pitched the merits of the draft Brexit deal to business leaders in Belfast on Monday, said the report's undertakings to protect the Single Electricity Market (SEM) and ensure certain citizens' rights are upheld post-Brexit would also fall by the wayside if the UK crashes out.
"They are agreed as part of the withdrawal agreement, that is not something that is agreed in a no-deal situation," she said.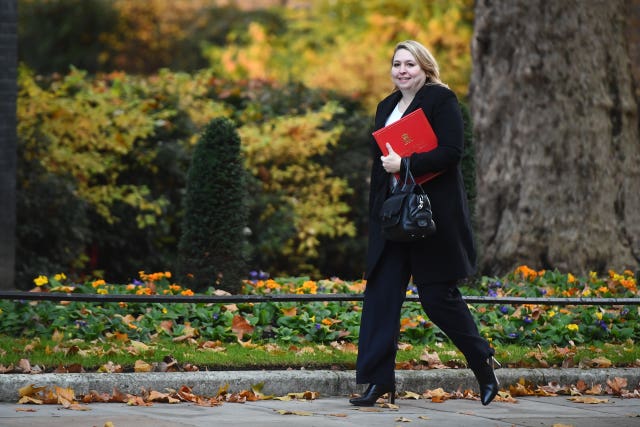 The Secretary of State was challenged on the apparent contrast between Mr Varadkar's statement and the UK Government's oft-stated position that it is committed to ensuring no hard border post-Brexit.
In response, she urged the audience to familiarise themselves with WTO rules on the need for checks to happen.
After the event, she elaborated: "WTO rules means that there has to be a requirement that checks are carried out, that tariffs are paid, that customs declarations have to be completed – now, how that is done will be matter for us to negotiate and consider, but the fact is the WTO is very clear that if there is two separate customs territories, checks have to be able to be carried out on a contemporaneous basis on consignments passing between the two customs territories.
"We will do, as the UK Government, everything we can to avoid there being a hard border on the island of Ireland – we do not want to see there being physical infrastructure at the border and we will try to facilitate that in any way we can.
"But the WTO rules are clear – tariffs will apply, checks will be required – that is what the WTO says."
Despite the DUP's trenchant opposition to the Government's plan, Ms Bradley did not mention the name of the party once during her appearance at Belfast Met College – not in her speech, during a question-and-answer session with business leaders or a later press conference.
Despite being pressed, she repeatedly insisted that she did not want to "single out" one political party, instead urging all MPs to get behind the deal.
She insisted the draft agreement protects the "precious Union" of Great Britain and Northern Ireland and warned it is the only option on the table.
"Be under no illusion – the EU won't start negotiations all over again," she said.
Since the draft text was unveiled a range of business and agricultural bodies in Northern Ireland have come out in support of Theresa May's proposals, including the influential Ulster Farmers Union (UFU).
But the DUP has insisted it is not isolated on the issue, pointing out that all main unionist parties are opposed to the deal, on the basis, they claim, that it undermines the integrity of the UK.
Ms Bradley said she was "disappointed" by the coverage of the issue.
During the question and answer exchanges, Stephen Kelly, the chief executive of campaign group Manufacturing Northern Ireland, told her that business leaders in the region had found their "voice" on Brexit.
"Some have interpreted that as an attack on a particular party, an attack on a particular part of the community. What would you say to the business community here to encourage them to keep having that voice, to be confident behind this agreement and to work with all the parties to ensure the best interests of Northern Ireland are looked after?"
Ms Bradley replied: "It's disappointing some of the coverage that there has been since the deal, in that it has somehow been portrayed as an attack on any one party or politician.
"I want to be clear – I am not standing here saying that those politicians who have a difference of opinion with me on this matter are anything other than acting in what they consider to be the best interests of their constituents and they are absolutely entitled to have a different view from me.
"As I say, this is a balance of risks and opportunities and, in my view, this is the best deal for the whole United Kingdom and that is why I am standing in front of you today saying please get behind it and support it."