The capacity of childcare services in Scotland has decreased, prompting renewed fears the Scottish Government will not be able to meet its pledge to expand free nursery provision.
It has pledged to increase paid-for nursery places from the current 600 hours to 1,140 for three and four-year olds, and eligible two-year olds, by August 2020.
Ministers made a £2 billion funding deal with councils to deliver the pledge, including an additional £476 million in capital funding between 2017-18 and 2020-21 for building work.
Critics say the latest report into the state of childcare provision by the Care Inspectorate shows the Scottish Government risks missing its target to deliver the increase in free childcare, equivalent to approximately 30 hours a week during term time.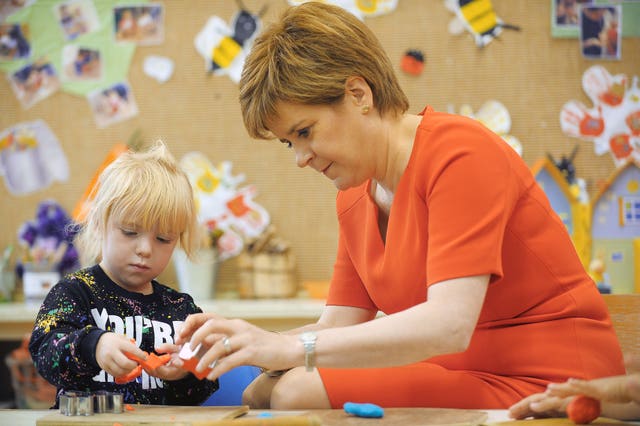 The number of early learning and childcare providers also fell 2.9%, down from 9,402 in 2016 to 9,127 in 2017.
There has also been a drop of 4.3% in the number of childminders, with 243 fewer registered in 2017.
Alison Harris, Scottish Conservative spokesman on children and young people, said: "The SNP's expansion of childcare is going exactly the wrong way.
"The SNP has, so far, failed to increase childcare provision at all and capacity is actually falling.
"The SNP is driving nurseries to breaking point with low rates, lack of engagement and lack of access to capital funding.
"The SNP must include independent childcare providers in its childcare expansion plans, or the policy is likely to fail and devastate parents counting on this support."
Labour Education spokesman Iain Gray said: "These figures show the mess the SNP is making of childcare policy.
"From the start, the SNP has been warned repeatedly that issues exist with regards to providers, funding and staffing.
"This is the latest in a line of evidence that the implementation of expanding funded early learning and childcare is being poorly managed.
"This is what happens when a childcare policy is written to fit on an election leaflet and not to fit around the lives of Scotland's families."
Responding to the report, Children's Minister Maree Todd said: "I welcome this report which shows that the overall quality of childcare services remains high, and also highlights a further increase in flexibility and choice for parents over the past year.
"We are almost doubling the amount of funded early learning and childcare in Scotland for all three and four-year olds, from 600 hours to 1,140 hours. This will help ensure that all children, regardless of their background, get the same start in life."
Gordon Weir, interim chief executive of the Care Inspectorate said: "High quality early learning and childcare benefits children across Scotland.
"It helps them to have the best start in life and supports them in their learning journey throughout school and beyond.
"The Care Inspectorate's job is to ensure that early learning and childcare is high quality, meets children's needs and respects their rights.
"We see examples of excellent early learning and childcare services across the local authority, voluntary and private sectors in all parts of Scotland, with many services operating at the very highest levels of quality.
"We are pleased to note the quality of services remained high overall with 92.1% of childminders and 88.3% of daycare of children services found to operating at a level of good or better for all quality themes.
"This represents a slight increase compared to 2016, when 91.8% of childminders and 87.6% of daycare services were achieving this standard."