An unverified bogus Twitter account claiming to belong to Russian President Vladimir Putin has been suspended after going undetected for six years.
The account, @putinRF_eng, managed to attract more than one million followers and was mentioned in tweets sent by several high profile names, including former Italian prime minister Silvio Berlusconi, Kosovo President Hashim Thaçi, and former Argentina president Cristina Fernández de Kirchner.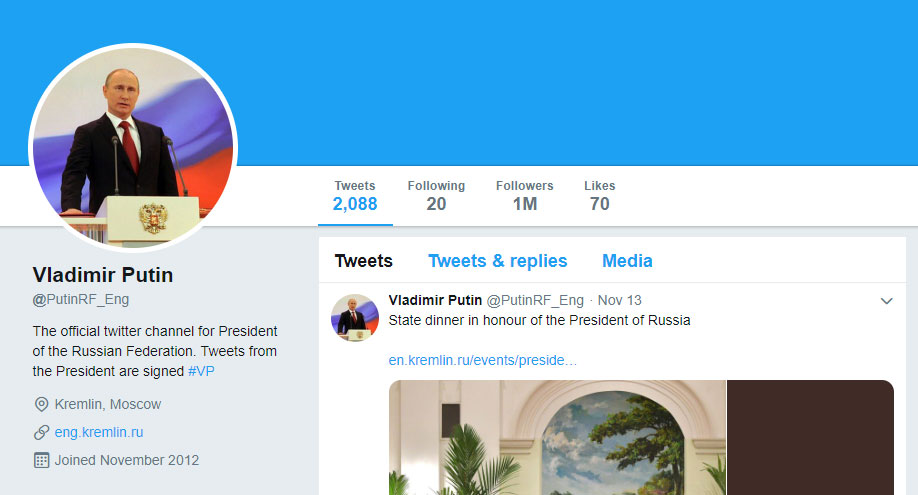 Earlier this year, the Kremlin confirmed to the Press Association that the account in question was not run by Mr Putin nor managed by a member of his team.
The fake account regularly posted photos and updates of the Russian President's activities and stated in its description that it was official, although it did not have Twitter's verified blue tick, which helps users know whether accounts for recognised and famous names are real.
Impersonation is against Twitter policy, unless the account states that it is a parody, commentary, or fan account that is not affiliated with similarly-named individuals.
Twitter has taken a tougher stance on suspicious and inactive accounts on its platform, purging millions of locked accounts in July designed to "improve the health" of conversation.
Social networks have also beef up their effort against accounts suspected of misleading political behaviour, with Twitter deleting 284 accounts in August for "coordinated manipulation" in the lead up to the US mid-term elections.