Drones which forced the closure of Gatwick's runway are believed to be "industrial" models, police said.
All flights were suspended at 9pm on Wednesday after two of the devices were seen near the West Sussex airport.
All flights up to at least 4pm have been cancelled.
More than 20 police units from two forces are searching for the perpetrator.
Sussex Police posted a message on Twitter which stated: "It is believed that the Gatwick devices used are of an industrial specification. We are continuing to search for the operators."
Superintendent Justin Burtenshaw said police are acting on the basis that it is "a deliberate act to disrupt the airport".
He described attempts to catch whoever is controlling the gadgets as "painstaking" because it is "a difficult and challenging thing to locate them".
He added: "Each time we believe we get close to the operator, the drone disappears; when we look to reopen the airfield, the drone reappears."
A Gatwick spokesman said it expects disruption to continue into Friday, which is one of the airport's busiest days of the year due to the Christmas getaway.
He went on: "There is significant disruption at Gatwick and our terminals are extremely busy.
"We are prioritising the welfare of passengers during this very difficult time, and have teams across the airport looking after them as best we can."
Gatwick said the drones have been seen flying over the airport's perimeter fence and close to the runway.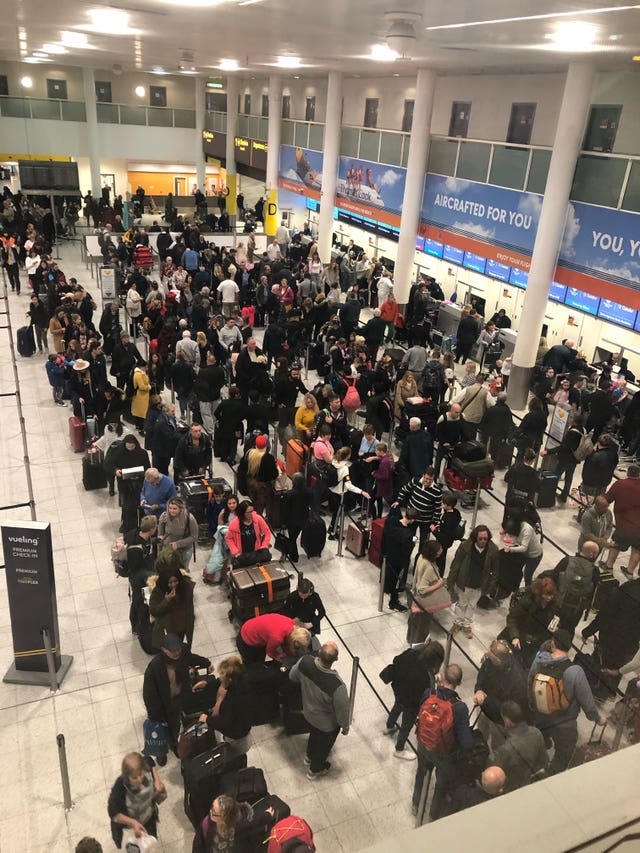 Passengers faced severe disruption as flights were unable to leave the tarmac, while others were diverted to alternative airports.
Some people reported being left stuck on planes for several hours while they waited to find out what was going on.
Some 10,000 passengers were affected on Wednesday night, and a further 110,000 were due to either take off or land at the airport on 760 flights on Thursday.
Lyndsey Clarke, from Southend, said she was stuck on a plane for more than four hours after it was re-routed to Stansted.
The 27-year-old said passengers were having to get taxis back to Gatwick after they were finally allowed off the aircraft.
Luke McComiskie's plane ended up in Manchester, and he described chaotic scenes as people tried to find their way home after more than three hours stuck on board.
The 20-year-old, from Aldershot, told the Press Association: "We got told there would be some arrangements with coaches for us when we get out the terminal … It was just chaos and they had only two coaches and taxis charging people £600 to get to Gatwick."