Senior Labour figures have been accused of interfering with the disciplinary process investigating claims of anti-Semitism, according to BBC Panorama.
In a programme aired on Wednesday, communications chief and Jeremy Corbyn ally Seumas Milne and National Constitution Committee general secretary Jennie Formby were singled out for criticism.
Labour has denied the claims and written a complaint to the BBC.
The rogue tweet read: "There we have it folks, proof if any was needed that the Labour Party IS institutionally racist and will be until Corbyn and his cronies go #EnoughIsEnough #Panorama"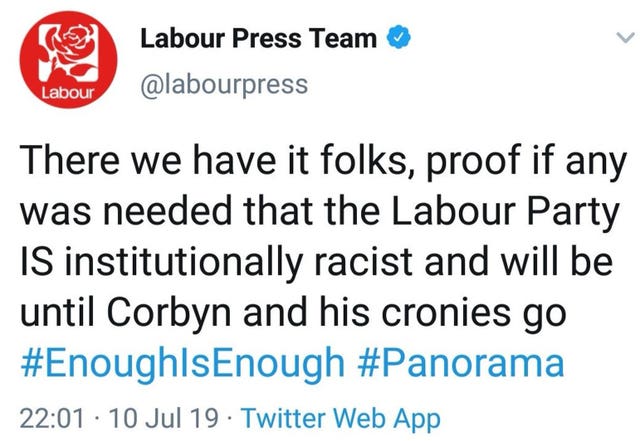 A total of eight former Labour officials spoke to Panorama, including four who have signed non-disclosure agreements (NDAs) on the subject of anti-Semitism, according to the BBC.
Dan Hogan, who was an investigator in the disputes team, raised issues about Ms Formby.
He alleged people she had brought in since her appointment "overruled us and downgraded what should've been a suspension to just an investigation or worse to just a reminder of conduct, effectively a slap on the wrist".
Former head of disputes Sam Matthews said he interpreted an email from Mr Milne as "not a helpful suggestion" but as "an instruction".
The BBC reported that, in the email from March last year, Mr Milne said there should be a review of the disciplinary process into anti-Semitic complaints.
"Something's going wrong and we're muddling up political disputes with racism," he reportedly wrote.
"I think going forward we need to review where and how we're drawing the line."
In response to the claims about Mr Milne, a Labour Party spokesman said: "This allegation is false and malicious, and our response has been misrepresented by Panorama, throwing into doubt the extent and seriousness of their engagement with the Labour party's responses.
"Jeremy Corbyn has repeatedly expressed his support for Israel's right to exist and for a two-state solution, with a secure Israel alongside a secure and viable Palestinian state, so there would be no reason whatever to laugh at any such suggestion.
"This claim is absurd and untrue."
Anti-Semitism complaints within the party have increased significantly since Mr Corbyn became leader in 2015, the broadcast suggests.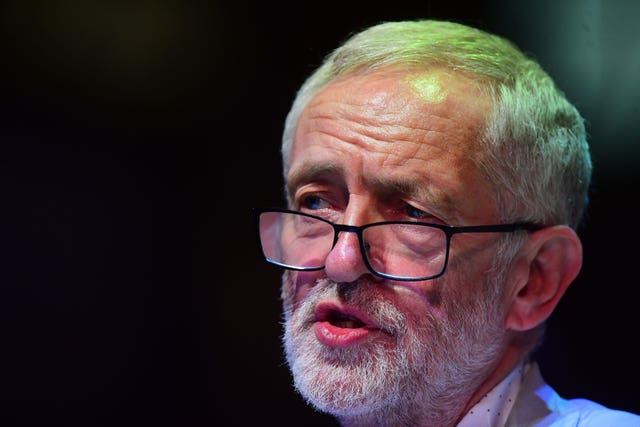 Testimony reportedly included allegations there were substantial disagreements within the party about what constituted anti-Semitism.
It featured a claim complaints were processed directly by aides in Mr Corbyn's Westminster office on one occasion, the broadcaster said.
Labour, which has been braced for the accusations, wrote to BBC director-general Lord Hall to complain ahead of the broadcast.
A Labour spokesman accused the broadcaster of "pre-determining" the outcome of its investigation.
The spokesman said: "The Panorama programme and the BBC have engaged in deliberate and malicious representations designed to mislead the public.
"We completely reject any claim that the Labour Party is anti-Semitic.
"Labour is taking decisive action against anti-Semitism, doubling the number of staff dedicated to dealing with complaints and cases.
"It appears these disaffected former officials include those who have always opposed Jeremy Corbyn's leadership, worked to actively undermine it, and have both personal and political axes to grind.
"This throws into doubt their credibility as sources.
"Our records show that after these officials left and after Jennie Formby became general secretary, the rate at which anti-Semitism cases have been dealt with, increased more than four-fold."
A BBC spokesman said: "The programme adheres to the BBC's editorial guidelines.
"In line with those, the Labour Party has been given the opportunity to respond to the allegations."
Gideon Falter, chief executive of the Campaign Against Anti-Semitism, said: "Former Labour officials, have been compelled by their conscience to speak out, revealing the scale of the duplicity behind Labour's failure to address the party's anti-Semitism crisis.
"Whilst claiming to act against Jew hatred, Jeremy Corbyn's agents and allies have carefully protected anti-Semites."
A spokesman for the Jewish Labour Movement said: "After seeing tonight's programme, no one can doubt that Labour is institutionally racist against Jews.
"Revelations this evening are a vindication of our decision to refer the Labour Party to the Equalities and Human Rights Commission, who are now investigating the party for institutional racism."
Tory leadership hopeful Jeremy Hunt has described Mr Corbyn as "either wilfully blind to anti-Semitism or anti-Semitic himself".
The Foreign Secretary tweeted: "The vast majority of Labour MPs I know are decent patriots.
"But there can now be no doubt that they are led by a man either wilfully blind to anti-Semitism or anti-Semitic himself.
"Shame on you @jeremycorbyn for allowing this cancer to infiltrate our politics."