Three people have died following a knife attack in Reading's town centre on Saturday night.
Here is what we know so far about the incident:
– A number of people were stabbed by a man in Forbury Gardens in Reading's town centre around 7pm on Saturday night, leaving three dead.
– Three others were taken to hospital, although one has now been discharged.
-One of the dead has been named as teacher James Furlong – head of history, government and Politics at the Holt School in Wokingham.
– A 25-year-old man, understood to be named Khairi Saadallah, was arrested at the scene and taken into police custody.
– The attack is being treated as terrorism and counter-terror police have since taken over the investigation from Thames Valley Police.
– The suspect, who was initially arrested on Saturday on suspicion of murder, was rearrested on Sunday under Section 41 of the Terrorism Act 2000.
-The suspect is a Libyan refugee understood to have been granted asylum in the UK.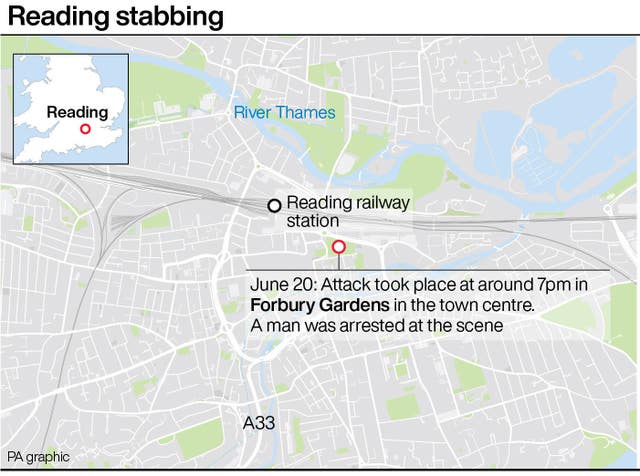 – Police are not looking for anyone else in connection with Saturday's attack.
– Saadallah briefly came to the attention of the security services in 2019, but the information provided did not meet the threshold for investigation, PA understands.
– It is understood M15 had received intelligence he planned to travel abroad, possibly for terrorism purposes, but the threat was found to be insubstantial.
– The suspect was jailed in October for a complex series of non-terror offences for a period of two years, one month and 20 days.
– His sentence was reduced to one of 17 months and 20 days' imprisonment in the Court of Appeal on March 19 of this year.
– One of the appeal judges who gave the judgment in March, Mr Justice Goss, noted Saadallah's various mental health issues in reducing the sentence.
– Saadallah was "silent and staring" as he was arrested, covered in blood, a short distance from the scene, a witness said, and "wasn't even blinking".
– The attack was not in any way associated with the Black Lives Matter protest which took place peacefully earlier on in the day, police have confirmed.
– Police forces have urged social media users not to post any footage out of respect for the victims' families after a graphic clip circulated online.
– Lawrence Wort, 20, who said he was around 10 metres from the attack, said the attacker "shouted unintelligible words" before attacking multiple groups of people, adding: "When he realised everyone was starting to run, he ran out the park."
– Five ambulance crews as well as two air ambulance services were among the resources sent to treat the casualties, South Central Ambulance Service said.
– The Prime Minister has held a meeting with security officials, police and senior ministers over the incident.