The Archbishop of Canterbury has been accused of failing to show leadership on ending discrimination against LGBT people after he appeared at a protest about equal marriage rights.
Justin Welby spoke to around 40 activists who gathered outside his official London residence of Lambeth Palace on Monday evening asking for same-sex couples to be allowed to marry in church.
The protest was organised by former government LGBT adviser and General Synod member Jayne Ozanne along with veteran campaigner Peter Tatchell.
They were supported by politicians at the event, including Baroness Ruth Hunt and the Conservatives' Ben Bradshaw.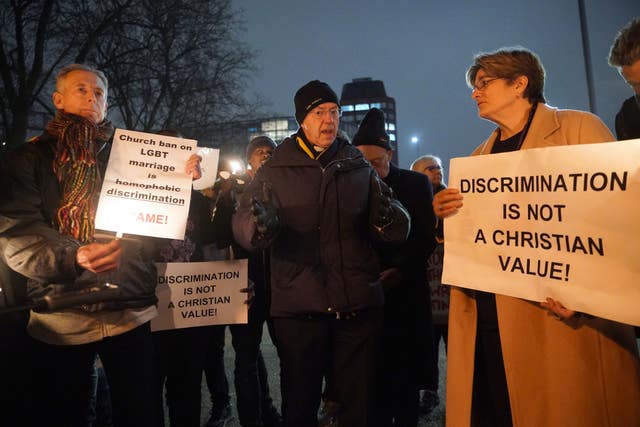 He told protesters: "To get something through – to get equal marriage – would need legislation, and legislation has to carry by two-thirds in each house of Synod."
Mr Tatchell told the PA news agency the Archbishop's appearance at the protest was a "PR move" and did not illustrate a willingness to help further their cause.
"He just reiterated his stance opposing same sex marriage – and that is discrimination."
Asked if Mr Welby's presence indicated he might be willing to engage with protesters in the near future, Mr Tatchell said: "No.
"I think it was a good PR move and it was good that he engaged with us but he did not move anything forward.
"He has not shown leadership. He has just sat on the fence."
Mr Tatchell said the Archbishop's refusal to personally bless same-sex couples despite welcoming proposals for others within the church to do so is an act of "appeasing homophobes" in the institution.
"LGBT people are being sacrificed in the name of church unity," he said.
"That is not a Christian approach."
Ms Ozanne said one "palpable action" from the Archbishop was that he had asked for a list of names of people who "preach messages that harm LGBT people" so he could "deal with" the issue.
"One of the things that angers me the most is that we talk about unity all the time, but that even talk of unity seems to exclude the LGBT community who are leaving in their droves.
"I do hope that we will wake up to the harm that we do.
"We wouldn't treat interracial couples like this, we wouldn't treat disabled people like this, but somehow we seem to think it's OK to treat LGBT people like this. That must stop."
A spokesperson for Lambeth Palace said: "The archbishop met with those who attended a vigil outside Lambeth Palace this evening and spoke with them about the recent proposals by the College of Bishops.
"Like all the bishops, the archbishop will continue to listen and speak to people over the coming weeks following the response that the bishops of the Church of England have collectively made to the Living in Love and Faith project.
"Meanwhile these proposals will be debated by General Synod in two weeks' time and the archbishop looks forward to that debate."