A firefighter is fighting for their life after being injured battling a blaze at the Jenners building in Edinburgh.
Five firefighters were hurt during the blaze at the landmark former department store in the Scottish capital, which crews were called to at 11.29am on Monday.
And a spokesman for the Fire Brigades Union said it was aware of a number of injuries to firefighters.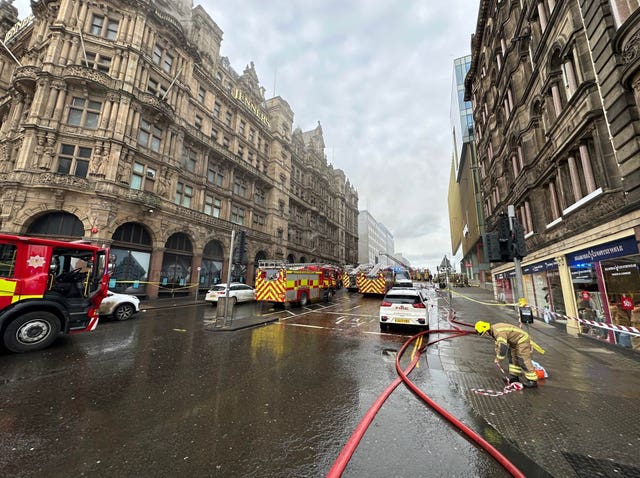 Witnesses saw one soot-covered firefighter being brought out of the the burning building by two of their colleagues.
Elena Whitham, Scotland's community safety minister, said her thoughts were with the firefighters and their families.
"Their sheer bravery and professionalism must be commended," she said.
"Scotland's communities are lucky to have our valued firefighters who stand ready to put their personal safety at risk in order to save others. We will continue to monitor the situation closely."
After the fire started emergency services shut roads around the building, from which flames were seen coming out of the ground floor.
A total of 22 appliances and other specialist resources were sent to the scene at the fire's height.
Marks and Spencer and the Mercure Hotel, on Princes Street, were closed as firefighters worked in the neighbouring former department store, and other buildings in the area were evacuated.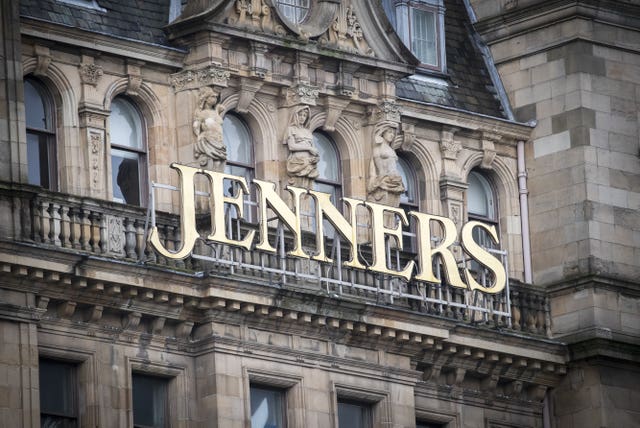 "I was aware of the sirens and it was one of my team that said Jenners was on fire.
"The building's beautiful. It's such a beautiful piece of architecture, it's such a shame, especially with it shutting down and lying kind of empty."
Having seen the start of the blaze from Princes Street, Alan Potts, 64, said: "Obviously, the tour buses go up this street, and we thought the fire was originally in Sainsbury's, but it was Jenners which they're working in.
"There was about five or six fire engines all appeared at the same time.
"There was just heavy smoke, I didn't see any flames at any point.
"Lots of ambulances about, which makes us think there might have been someone inside but never saw anyone coming out."
City of Edinburgh Council leader Cammy Day praised firefighters for their "speedy and brave response".
"It's so sad to see a fire at one of Edinburgh's most iconic buildings," he said.
"Council officers remain on the scene and are supporting the emergency services and those affected by the fire."
Founded in 1838, the department store was one of the oldest in the world when it closed in 2021.
The A-listed current building dates to 1895, after a fire destroyed the original.
Renovations are ongoing to transform it into a hotel, backed by a firm owned by fashion billionaire Anders Holch Povlsen.
A Health and Safety Executive spokesman said: "HSE is aware of this incident and liaising with the emergency services."