The Archbishop of Canterbury has said he is getting "flak" from opponents of the Church of England's decision to allow the blessing of same-sex partnerships.
Justin Welby called the move a "huge step", although some campaigners criticised the Church for maintaining a ban on clergy marrying same-sex couples.
The plans, to be outlined in a report to the General Synod, will allow same-sex couples to come to Anglican churches after a legal marriage ceremony for services including prayers of dedication, thanksgiving and God's blessing.
The Archbishop on Monday evening spoke to protesters who had gathered outside his official London residence of Lambeth Palace asking for same-sex couples to be allowed to marry in church.
While he strongly welcomed the Church's decision, he has said that he will not personally carry blessings out due to his "pastoral responsibility for the whole communion".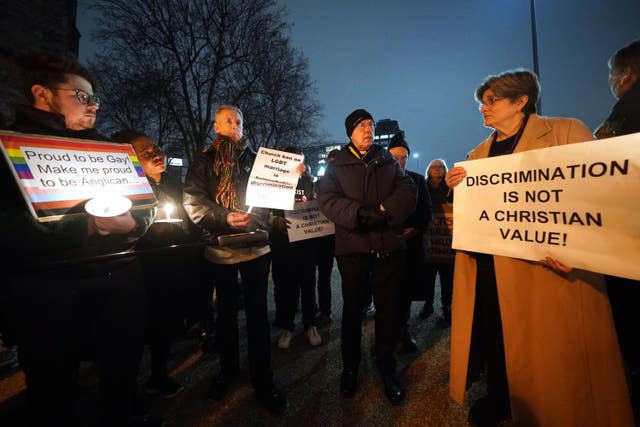 "It's not comfortable.
"But, you know, the Church is deeply divided over this issue. Every global church is.
"And the Church in this country is, in every denomination.
"We have to face that reality – it's no use wishing the world was other than it is."
He told the programme that the decision had been "controversial".
"First, we have made a huge step, which is to say that if someone is married in a civil marriage, equal marriage, someone of their own gender, same sex marriage, that they can come to church and have that marriage recognised and thanked for and dedicate themselves to God and seek God's blessing in their lives.
"And that's something that we've never done before and it's controversial.
"I'm getting equal amount of flak from the other side about having compromised traditional Christian standards."