The biggest strike in the history of the NHS will be a "difficult" day, a senior health service leader has warned, as a top emergency doctor described ongoing chaos in A&E departments.
Chris Hopson, chief strategy officer for NHS England, said that combined action on February 6 is a "step change" in the dispute.
Nurses and ambulance staff will stage strikes on the same day for the first time in the ongoing row over pay and conditions.
Dr Adrian Boyle, president of the Royal College of Emergency Medicine, said that ongoing issues in the NHS "came to a head" in December, which he described as "awful".
Dr Boyle told the House of Commons' Health and Social Care Committee of his concern that during ambulance strikes, some vulnerable people who need support may not seek help.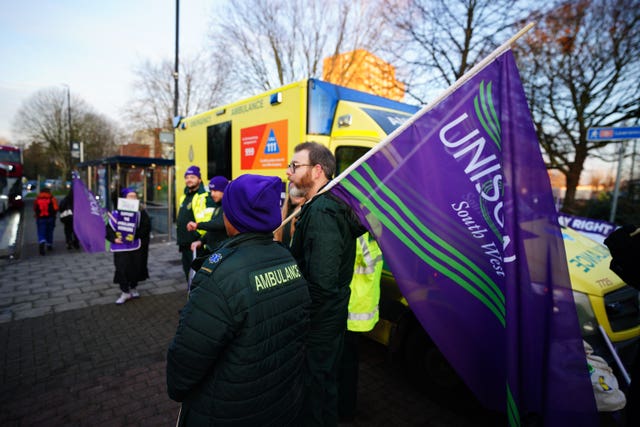 Mr Hopson told MPs: "Next month will see a step change in the action arising from the dispute between the trade unions and the government.
"So, we expect February 6 to be the biggest strike day in NHS history for five reasons: Firstly, we're going to have nursing and ambulance unions planning coordinated industrial action across the country.
"Secondly, we know that the nursing stoppage will last for two days, rather than one.
"Thirdly, we know that the numbers of trusts affected will go from 44 in December to 55 in January to 73 in February; there is now a shorter gap between the strikes; and this strike starts on a Monday, which effectively makes it difficult to deploy the discharge of patients to improve flow, which is what we've been doing in previous strikes.
"So, just to make the point, we are now entering a new and more difficult phase in the dispute
"But that said, we're doing all we can to make sure that those who need care receive it as we've done so far.
"I particularly wanted to stress that is is incredibly important that any patient who does have a life-threatening emergency does call 999 and that for any other urgent care, please use 111 online."
When asked whether winter preparation plans had worked, Dr Boyle told MPs: "I think the answer actually is demonstrated by the outcome, and we've had such an awful December with such terrible outcomes.
"You can make a plan, but actually the measure of whether a plan succeeds is in the outcome, and the outcomes we've had over this December… We've said the plans have not worked in the way that we needed them to."
He added: "We've certainly had the worst ever December we've had – if you look at performance figures on every metric, what went on in in December was terrible.
"This is a complex, multi-faceted problem. I think we need to be realistic that just a little bit of money may not be just a magic fix. It's not a magic wand.
"We've got serious structural problems that impair our ability to deliver urgent and emergency care.
"Things have been going wrong for quite a long time and came to a head over December."
But Dr Boyle said that some of these patients could have been waiting hours before a decision was made to admit them.
The figures also show that the proportion of patients seen within four hours in England's A%Es fell to a record low of 65% in December.
Dr Boyle called for improvements in 111 services to prevent unnecessary A&E trips, and for hospitals to share the burden of an influx of patients – instead of leaving crowds of people in emergency departments for hours on end.
He said more must be done to stop the "haemorrhage" of emergency care nurses, saying that he signed a leaving card every time he went to work.
It comes as another A&E doctor likened her department to a "war zone".
Writing in the Express and Star, senior middle-grade emergency medicine doctor Amy Attwater said: "When I get to work, it is chaos, like a war zone.
"The noise is unbelievable and there are patients everywhere – they can be squeezed in cupboards and blocking fire exits; it scares me that if there was a fire, we might not be able to get everyone out alive as the department is like an obstacle course."
Regarding winter planning, Mr Hopson told the Committee: "It is just worth noting that without the 7,000 extra bed or bed equivalents – virtual wards; without the extra 1,000 111 and 999 call handlers; the community falls service; the respiratory hubs; and the system control centres that we've added this winter, those pressures would have been significantly greater."
He added: "We prepared for this winter we prepared for it earlier than we had done before.
"The issue was always going to be this winter was the degree to which we saw prevalence of both Covid and flu and the degree to which they combined.
"Now we're obviously not through winter yet … but both Covid and flu peaked so far, on December 29, when we had 9,500 people with Covid in our hospital beds, and we had 6,500 people with flu in hospital beds, and then we had around 12,000 people who were medically fit to discharge and we were unable to discharge.
"So if you add that together, that means 28,000 of the approximately 100,000 beds that the NHS has, were effectively occupied by a combination of Covid, flu and medically fit to discharge patients."
But Dr Boyle also told MPs that he was "sceptical" about plans for virtual hospital wards.
"We are a little bit sceptical about the virtual wards as a solution – I know it's an attractive option because it looks very cheap.
"But unless it is properly evaluated we are not going to know whether it works."