The number of patients in hospital with flu in England has dropped by nearly two-thirds since the start of the year, in the latest sign that the winter wave of infections has peaked.
Covid-19 patient levels are also continuing to fall, though norovirus cases have risen slightly.
An average of 2,034 flu patients were in hospital beds each day last week, down 63% from the week to January 1, NHS data shows.
At this point last winter the average was just 36.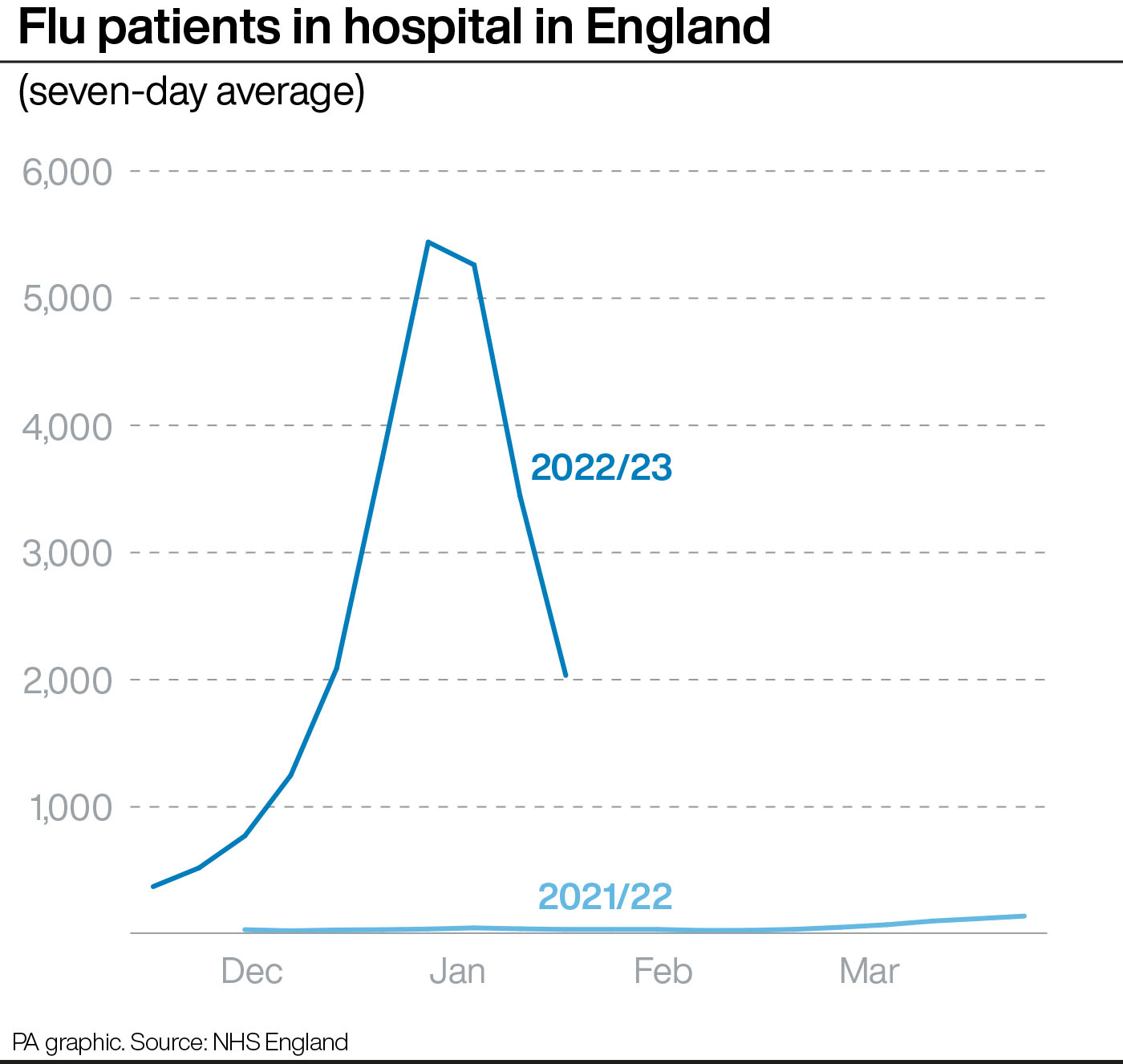 Flu admissions stood at 1.4 per 100,000 people last week, down from 3.2 per 100,000 the previous week and the lowest level since early November.
In the week to December 25 the rate reached 16.4 per 100,000.
Admission rates have dropped among all age groups, with the steepest decrease among the over-85s, down week on week from 26.3 to 4.9.
Rates are highest among under-fives, though the latest figure for this age group of 5.4 admissions per 100,000 is well below the pre-Christmas peak of 37.4.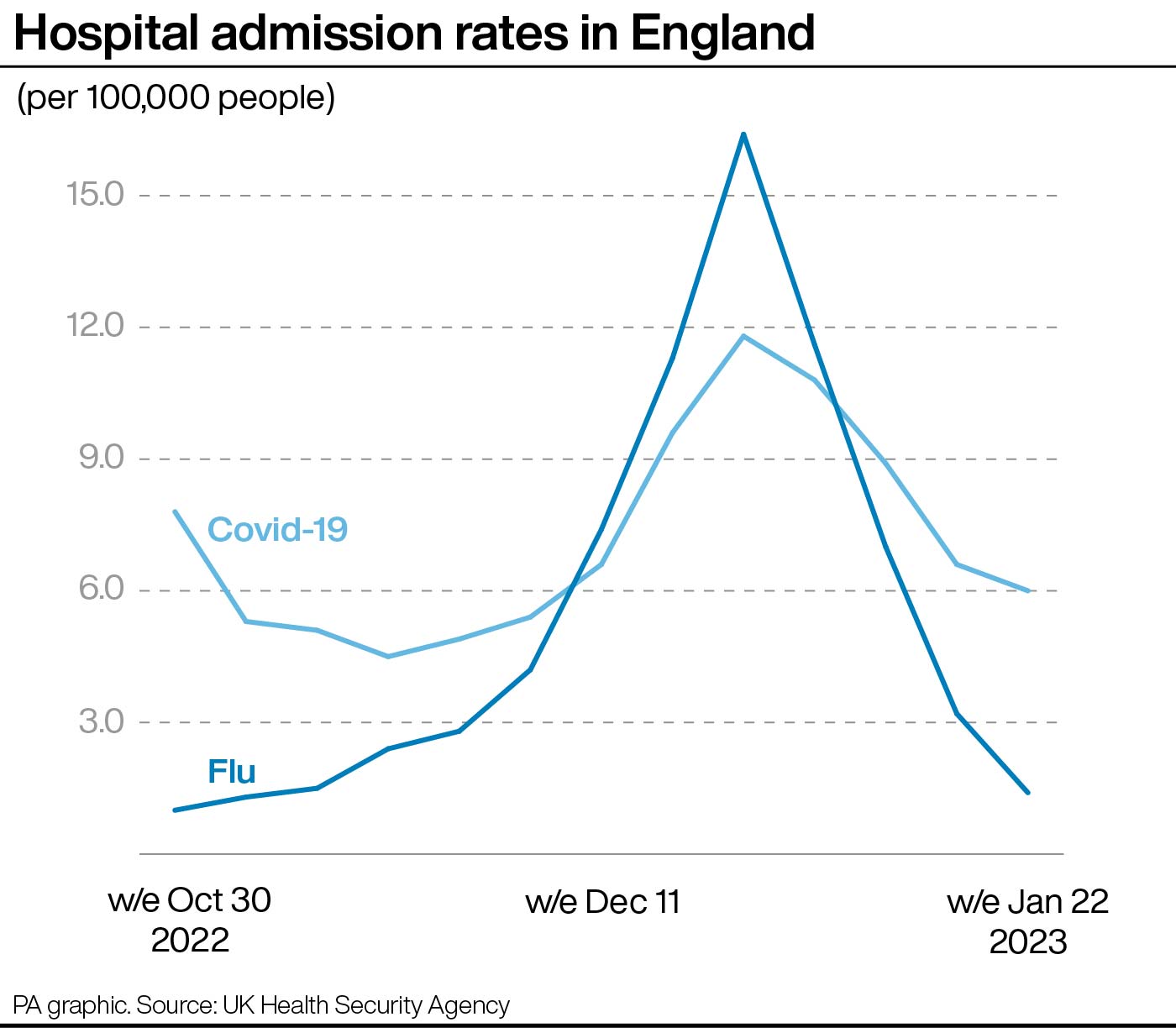 The number of people in hospital with coronavirus is now on a downwards path, however.
There were 5,632 patients with Covid-19 in hospitals in England on January 18, a drop of 40% since January 1.
The figure peaked at 9,535 on December 29, but this was well below levels seen in previous waves.
Covid-19 admissions stood at 6.0 per 100,000 people in the week to January 22, the lowest since the start of December.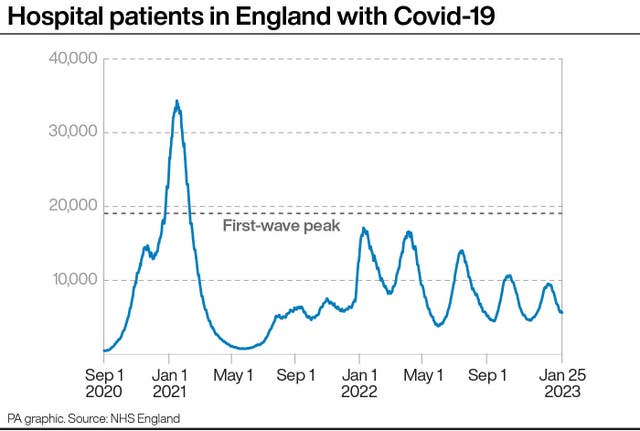 Professor Julian Redhead, NHS England national clinical director for urgent and emergency care, said that, despite the improvements in flu and Covid-19 numbers, the NHS "remains under significant pressure" and "illnesses like flu and norovirus are still a very real concern".
He continued: "NHS staff are working flat out to continue to provide the best care for our patients in the face of ongoing pressures.
"The public can also help us by using the most appropriate services for their condition – it is vital people continue to use 999 in an emergency, otherwise 111 online – and protecting themselves and their loved ones by getting their flu vaccination, and Covid jabs if eligible."
Around 33 million people in England can get a free flu vaccine this winter, including everyone aged 50 and over, all primary school-age children and some secondary school-age children.
All children aged two and three are eligible for a flu nasal spray vaccine, which is being offered by local GPs.
Some 41.3% of two-year-olds have received the vaccine so far, along with 43.9% of three-year-olds, according to the UK Health Security Agency (UKHSA).
This is below the take-up seen at this point in previous winters.
An estimated 55.5% of primary school-age children had received the vaccine by the end of December, slightly higher than the 52.9% take-up at the end of December 2021.
Dr Mary Ramsay, UKHSA head of immunisation, said: "Flu and Covid-19 levels continue to fall but winter is not over yet and we need to guard against further surges.
"Vaccination is our best defence. Hospital admissions for flu are still highest in the under-fives, so if your children are eligible, it's still not too late to get them vaccinated.
"Older people are still at the highest risk of being hospitalised for Covid-19, so it's vital those eligible get their booster jab.
"Now is the time to come forward for a Covid-19 booster if you haven't already – whether it's your first or if you're eligible for an autumn booster. Come forward before Sunday February 12, when the offer comes to an end. It will top up your immunity and keep you and your loved ones protected."