Protesters who occupied underground tunnels in north London said they have "won the argument" on HS2 amid speculation the high-speed railway might never reach the area.
HS2 Rebellion said all the justifications for the project "have gone out the window" following reports the Euston route could be axed because of rising costs.
Activists from the group Daniel Hooper, also known as Swampy, Dr Larch Maxey, Isla Sandford, Lachlan Sandford, Juliett Stevenson-Clarke and Scott Breen were involved in protest action at Euston Square Gardens to halt the project in January 2021.
"As soon as anyone with any common sense looks at HS2 they realise it has no place in a sensible world, we've won the argument, there is no argument."
He added: "It's another nail in the coffin of HS2, so hopefully it will help speed up the inevitable process."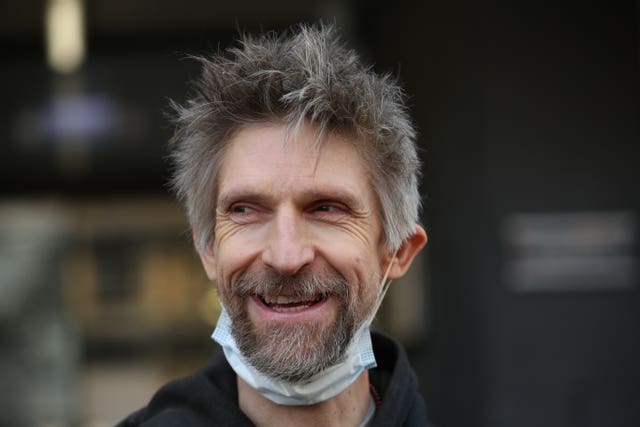 At Highbury Magistrates' Court in October 2021, District Judge Susan Williams dismissed the charges because HS2 was not carrying out construction work at the site at the time of its occupation.
An HS2 spokesman previously said they were "bitterly disappointed" with the outcome.
In December last year, the High Court directed the case back to the magistrates' court for a retrial before a different judge.
Dr Maxey added: "HS2 are the biggest mafia thugs this country has ever known as far as I can see, it's shocking to me but there's no surprise there's been this retrial because that's the way they operate."
An HS2 Rebellion spokesman said: "It's not just the loss of nature, you could also have a situation where more than half a dozen people lose their liberty for protesting a project which won't even go ahead.
"The protesters were right so they might even be in prison for it, they might be in prison for protesting a project which is cancelled before they even come out of prison or before they go in.
"Our feeling is we've won the argument on HS2. A lot of the things that were used to justify it in the first place – capacity, freeing up space on the line, getting people from the North to London quicker – all of them things have gone out the window."