Covid-19 infections are continuing to fall across the UK and are now at levels last seen before the start of the recent Christmas wave, figures show.
The number of people in hospital with the virus is also on a downwards trend, in further evidence the virus is becoming less prevalent.
A total of 1.1 million people in private households in the UK were likely to have had Covid-19 in the week ending January 17, down 39% from 1.8 million the previous week, according to the Office for National Statistics (ONS).
This is the lowest total since late November.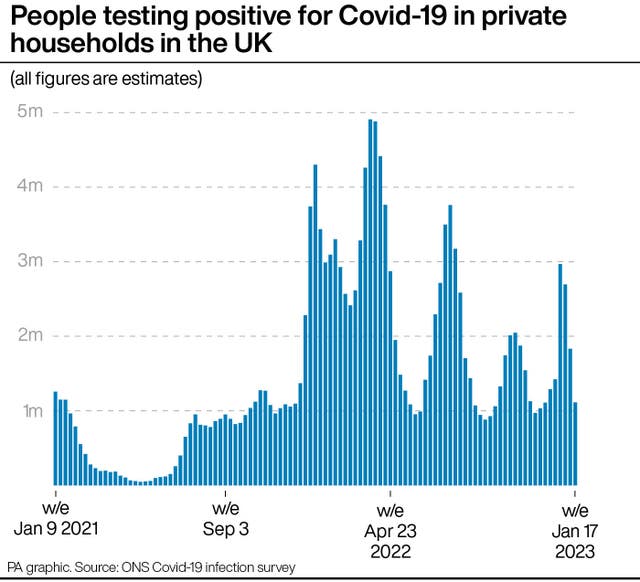 This is below the levels reached in previous waves, however.
Infections climbed as high as 4.3 million last winter during the spread of the original Omicron coronavirus variant, but this was topped a few months later during the wave caused by the Omicron BA.2/3 subvariants, when the number reached a record 4.9 million.
Michelle Bowen, ONS head of health surveillance, said the "picture is generally a positive one", with infections in England "back below one million and the lowest they've been in seven weeks".
"Infections have decreased in all English regions and most age groups," she added.
Prevalence of Covid-19 is lowest in England, with around one in 60 people estimated to have the virus.
In Scotland and Wales the estimate is one in 55, while for Northern Ireland it is one in 30.
The majority of current Covid-19 infections in the UK are the variant known as BQ.1, which is part of the Omicron family.
The ONS infection survey is the most reliable measure of the prevalence of coronavirus and is based on a sample of swab tests from households across the country.
It shows the percentage of people testing positive for Covid-19 is highest among over-70s at 2.1%, or the equivalent of one in 48.
South-west England has the highest percentage of the regions, at 2.0% or about one in 50.
The figure peaked at 9,535 on December 29, but this was well below levels seen in previous waves.
Covid-19 hospital admissions last week stood at 6.0 per 100,000 people, the lowest since the start of December.
The number of hospital patients with flu is also dropping, suggesting the peak of this year's winter virus season may have passed.
Dr Mary Ramsay, head of immunisation at the UK Health Security Agency, said: "Flu and Covid-19 levels continue to fall but winter is not over yet and we need to guard against further surges.
"Older people are still at the highest risk of being hospitalised for Covid-19, so it's vital those eligible get their booster jab.
"Now is the time to come forward for a Covid-19 booster if you haven't already – whether it's your first or if you're eligible for an autumn booster.
"Come forward before Sunday February 12, when the offer comes to an end. It will top up your immunity and keep you and your loved ones protected."