The door "remains open" for Britain to rejoin the European Union at any time, Brussels' former chief Brexit negotiator Michel Barnier has said.
Speaking in London, Mr Barnier said he would like the two sides to work together urgently to build a new partnership, including an agreement on defence and security co-operation.
Asked about the prospects of the UK rejoining the EU, he said that is a matter for the British people to decide.
He said: "It is not for me to give advice to say you have to join or not to join. It will be your choice, the choice of your leaders, the choice of your MPs. It will be your choice and your sovereign choice, exactly as Brexit has been the choice of the UK people.
"The door on the EU side will remain open any time – for you and some others. If Switzerland or Norway were to change, the door is open. Everybody knows the conditions."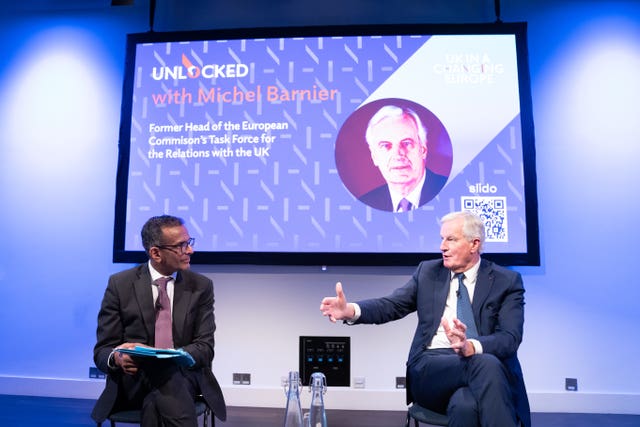 At the same, he said he believes there is a willingness on both sides to resolve the differences over the Northern Ireland Protocol, which could in turn pave the way for further progress on other issues.
Mr Barnier said: "We have a solid and competent Prime Minister with Mr (Rishi) Sunak. It would be a common interest as urgently as possible to build this new partnership between the UK and the EU.
"We can open discussion for a new agreement on defence matters in addition to the bilateral co-operation between France and the UK and Germany and the UK, and complementary to what we are doing in the Nato framework. No question.
"There are many fields we can improve and build this kind of partnership. There is a certain number of challenges we can only face together. Even if your country is now outside of the EU, we must co-operate to exist."