Aid workers have expressed their concerns about the help being provided to Syria after a devastating earthquake – describing the current situation as a "nightmare scenario".
The death toll from the 7.8 magnitude quake has passed 21,000 since it hit on Monday – reducing thousands of homes and buildings across the south of Turkey and northern Syria to rubble as people slept.
Search operations have managed to recover people four days on from the disaster, including six rescued from a collapsed building in Turkey after spending 101 hours beneath the debris.
Rescue workers in Iskenderun told the Associated Press those recovered are all relatives who managed to survive by huddling together in a small pocket left within the collapsed structure in Hatay province.
On Friday, Malcolm Russell, a member of the UK International Search and Rescue Team (UK-ISAR), tweeted to say some people are still being rescued, which is "giving everyone hope".
The Disasters Emergency Committee said its appeal for funds had raised over £30 million in its first day – including generous donations from the King and Queen Consort and the Prince and Princess of Wales.
The Prime Minister said the Government will match £5 million in funds raised through the appeal to help the rescue and relief effort in the earthquake's aftermath.
But aid workers have since expressed their concern that the recovery operations in war-torn Syria will take much longer.
Jeremy Smith, the Middle East & North Africa country cluster manager for the British Red Cross, told the PA news agency: "In Syria, this is very much a worst-case scenario for us. This is a nightmare scenario.
"We were working on the back of a cholera outbreak, we're working on the back of some horrible winter storms and winter weather.
"So ensuring that we have a fast and effective response has been our number one priority for the past three days."
Asked if he is concerned that Syria is unable to get the same level of help as Turkey, Mr Smith said: "It's quite a large concern. I mean, we're talking about a tale of two different disasters here but primarily in terms of the absorption capacity of the communities to respond to another crisis.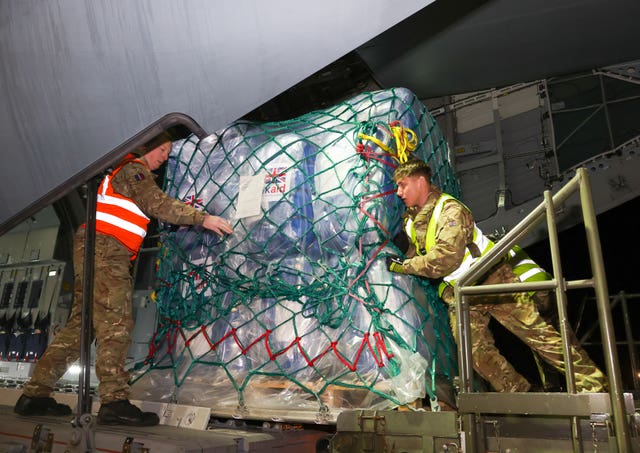 "Syria already had reduced infrastructure and medical infrastructure, water and sanitation infrastructure, electricity infrastructure; getting access to fuel is incredibly hard in Syria.
"But we know that, because of the additional challenges of being an area that's gone through 12 years of conflict crisis, the access challenges are going to be higher and the response is going to be a longer period."
Urging people in the UK to donate, Mr Smith told PA: "That money goes to supporting survivors in Turkey and in Syria who just had a life-changing event.
"Money is going to have a huge impact on helping the survivors rebuild, helping survivors move ahead towards recovery in both physical needs and mental health needs.
"And if you can give… you are in a position to give, we really do encourage you to give generously because this is going to support urgent life-saving work and promoting inner dignity."
A British-Pakistani aid worker raising money for those impacted by the earthquake also urged the West not to "forget about Syria".
Mental health researcher Rubbia A said she and her friend have raised more than £11,000 on JustGiving to supply victims with blankets, food, baby clothes, heaters, sanitary products and chargers.
She told PA: "The main thing we want to say is that Syria needs help… We just don't want people to forget that (they are) there," she said.
"No one is talking about Syria; people are dying every day.
"Gaziantep has one of the largest Syrian refugee populations, it's on the border where the majority of refugees are, so they have just escaped war and now they're dealing with this earthquake."
On Tuesday, Foreign Secretary James Cleverley said the department's Crisis Response Hub is working to support at least 35 Britons caught up in the disaster – including three who were missing.