Scotland's governments must work together to make cities like Glasgow realise their economic "superpower" potential, Gordon Brown has said.
The former prime minister was speaking at a conference in the city on how to boost its economy, alongside CBI director-general Tony Danker, Lord Sainsbury and Glasgow City Council leader Susan Aitken.
Mr Brown urged Scotland's First Minister Nicola Sturgeon and Prime Minister Rishi Sunak to jointly announce the creation of a precision medicine academy to capitalise on the growing industry.
The method uses genetics, environment and lifestyle factors to determine the best treatment and Glasgow's Queen Elizabeth University Hospital is currently home to an innovation centre and laboratory.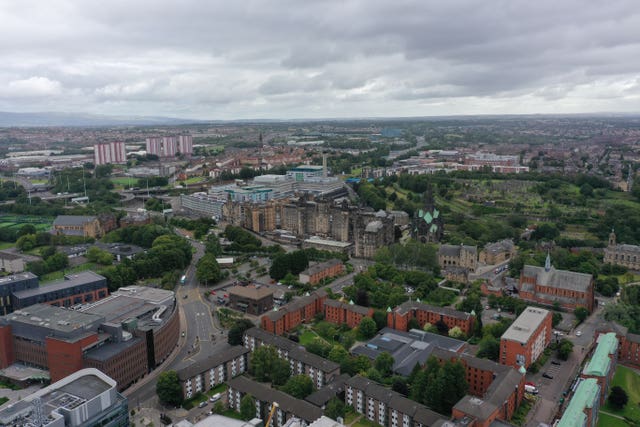 "We are divided on the constitutional question, but we can all unite around the mission to make Glasgow and Scotland one of the big centres for a new cluster that could change the lives of millions medically, but also create some of the best new jobs of the future.
"And most of all, we can give people hope.
"We do think there are huge opportunities for clusters of economic activity to be successful in this area, and across Scotland.
"Glasgow has got all of the attributes that could make it a world leading centre in precision medicine, just as in the 20th century it led the world in shipbuilding, and at the same time, we can deal with some of the huge challenges we face."
His comments follow a report by the Our Scottish Future think tank – founded by Mr Brown – which sets out the need to hold more power locally in order to progress.
The conference also heard from Lord Sainsbury, who said governments must allow many of the important economic decisions to be made at a local level.
"I believe that the levelling up of our cities will only take place if they are given the necessary powers to support new high value-added per capita companies which spring up in them or attract high value-added per capita companies to [cities], the peer said.
"Local economic growth cannot be engineered by ministers or civil servants sitting in Whitehall."
He also urged Scotland to move towards a "metro mayors" system which exists in England.
He said: "I think this discrepancy needs to be addressed without delay. Having a mayor that operates at the Glasgow city region scale would enable the mayor to better co-ordinate the policies needed to create the best conditions for the creation of hi-tech clusters of businesses and new high value-added jobs.
"There's no point trying to do this at a national level, UK or Scotland, where government is both very siloed and largely ignorant of the opportunities and difficulties faced by specific cities."
But in her keynote address, Ms Aitken said the metro mayors system had "inherent flaws" in the "disintegration of local government".
She added that Glasgow is already a "superpower", with the potential to grow further.