Labour's Ashley Dalton told the Conservatives "move out of the way" after a comfortable win in the West Lancashire by-election.
She demanded a general election, telling Prime Minister Rishi Sunak that it was time for Labour to take over.
Ms Dalton, who works part-time for a local charity, secured a majority of 8,326 over Conservative candidate Mike Prendergast, with a 10.52% swing from the Tories to Labour.
In her victory speech at Burscough Racquet and Fitness Centre, she said: "Tonight the people of West Lancashire constituency have spoke on behalf of the country.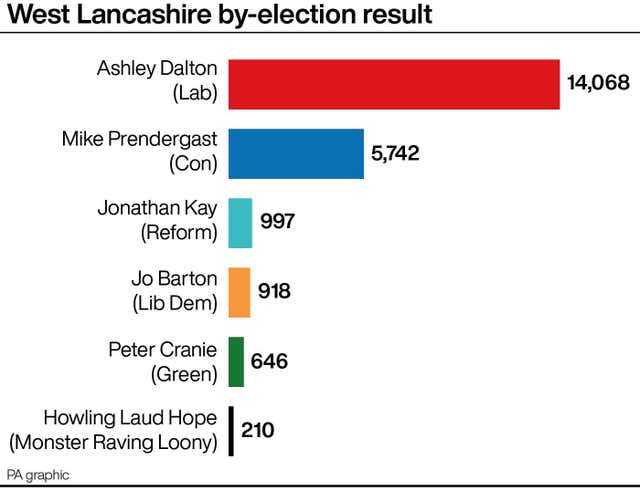 "Prime Minister, your Government has no ideas or a plan to address the big issues facing our country, like record levels of child poverty and people dying waiting for ambulances."
She added: "These are testing times for our country. I have had hundreds of conversations with voters and I know how hard life has become and the unthinkable choices people are having to face – paying their bills or buying food.
"Rishi Sunak's Conservatives no longer have a mandate to govern. His Government has no ideas, no plan to address the big issues facing our country and the voters tonight have sent a message to the Prime Minister – your Government is failing British people.
"Move out of the way. Let Labour take over and it's time for a general election."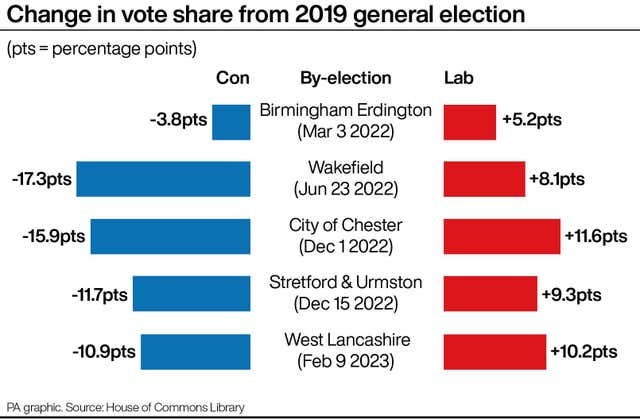 Shadow chancellor Rachel Reeves, speaking during a visit to Bolton, called it a "really great result".
"People want a general election and a choice now about who is in government because this Government have run out of ideas and they've run out of road."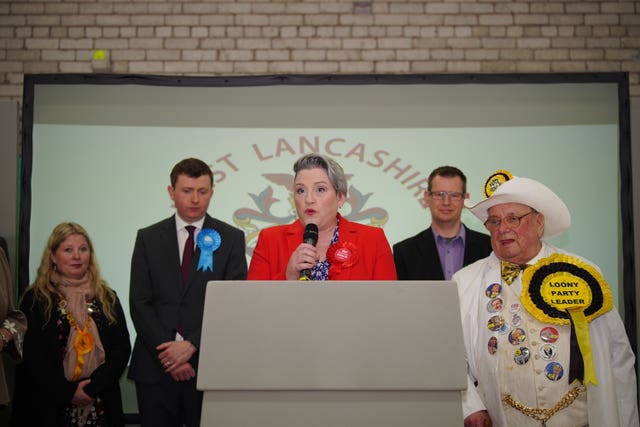 It was the first time the Tory vote has dipped below 30% since the 1997 general election, which Tony Blair's Labour party won by a landslide.
Reform UK secured 997 votes, ahead of the Liberal Democrats on 918, the Greens with 646 and the Official Monster Raving Loony Party with 210.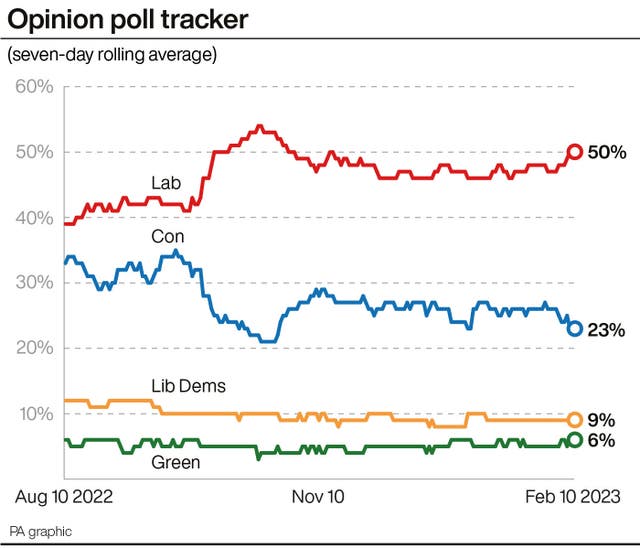 Labour, which is enjoying a significant lead in the polls against Mr Sunak's Conservatives, was always confident of holding the seat.
It was the latest by-election test for Mr Sunak since entering Downing Street last October and comes amid a cost-of-living crisis, soaring inflation and a wave of industrial action across the UK.
New Tory chairman Greg Hands, who replaced the sacked Nadhim Zahawi this week, is charged with steering his party towards the local elections in May amid pressure on the Prime Minister to get his party in fighting shape ahead of the next general election in around 18 months' time.