It is "possible" that spy balloons have been deployed by "hostile state" China across the UK's airspace, according to a minister.
The comments come after Defence Secretary Ben Wallace announced Britain will conduct a security review after a series of objects in western airspace were shot down by the US military, including a suspected Chinese spy balloon.
Transport minister Richard Holden, asked on Sky News whether it was possible that "Chinese spy balloons have already been used over the UK", said: "It is possible.
"It is also possible, and I would think likely, that there would be people from the Chinese government trying to act as a hostile state."
He added: "China is a hostile state and we need to be aware of that and the way it acts and behaves.
"I think there was an era when China could have gone a different way and perhaps opened up.
"But it is quite clear at the moment that it is not going in that direction and we have got to be really robust in our dealings with China."
The Defence Secretary said on Sunday that the UK and its allies would "review what these airspace intrusions mean for our security".
"This development is another sign of how the global threat picture is changing for the worse," said Mr Wallace.
US fighter jets shot down an "unidentified object" over Lake Huron on Sunday – the fourth object to enter US or Canadian airspace in just over a week.
On February 4, the US military downed a suspected Chinese spy balloon off the Carolina coast after it traversed sensitive military sites across North America.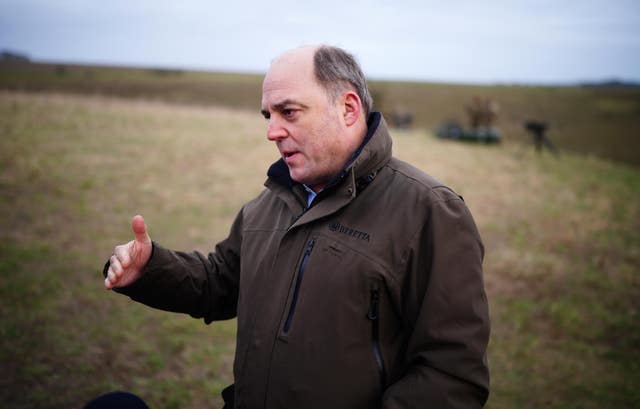 Canadian Prime Minister Justin Trudeau said on Saturday that he ordered a US warplane to shoot down an unidentified object that was flying high over northern Canada.
On Sunday, a further unidentified object was shot down with a missile by US fighter jets over Lake Huron.
Tobias Ellwood, the Conservative chairman of the Commons Defence Select Committee, said China was "exploiting the West's weakness" with the potential spy balloons.
The former defence minister told Times Radio: "I think this is a testament as to where China is going.
"It is interpreting our wobbly international rules-based order to its own benefit.
"It is exploiting the West's weakness, it is joining together with Russia, quietly, to try and weaken the West, to weaken the United States in particular so it can thrive itself.
"That is the new economic battlefield that we now see."