Rishi Sunak has declined to commit to increasing the Government's £5 million support for areas in Turkey and Syria devastated by earthquakes, despite public support raising more than £65 million.
The Prime Minister insisted the Government had provided "lots of other support" and was ready to provide more.
But he did not commit to increasing the amount of match funding for the growing sum of donations to a public appeal set up in the wake of the disaster, when asked by broadcasters.
The Disasters Emergency Committee, a non-government organisation overseeing efforts by leading aid charities, has raised £65.8 million as of Monday, the fourth day of its public appeal.
The total includes the Government's current commitment towards aid.
Asked about whether the Government would increase its match funding for the relief effort, Mr Sunak said: "It's been amazing to see the response from the country to what is an unbelievable, devastating tragedy that is hard to comprehend the scale of.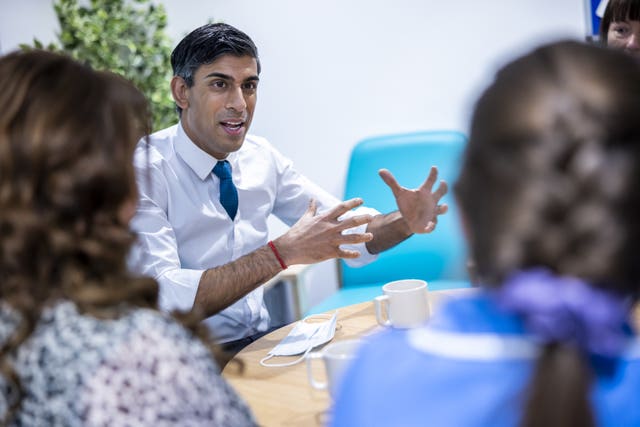 Speaking while visiting a rapid cancer diagnosis centre in Royton, Oldham, Mr Sunak said Britain has provided support including rescue workers, tents, blankets and hygiene equipment.
He added: "We're also continually in touch with the authorities and if they need more assistance we're ready to provide it."
The devastating earthquake hit parts of Turkey and Syria last week.
The UN has estimated the death toll may surpass 50,000 people although official assessments currently put the figure at 35,000.
UK aid workers are already on the ground in Turkey, but the relief effort in war-torn Syria is facing organisational issues due to the continuing conflict.
DEC director of programmes and accountability Madara Hettiarachchi said: "After 12 years of conflict, people in north-west Syria were already struggling to cope on a daily basis, with a shortage of resources and damaged infrastructure including water supplies and healthcare.
"The earthquake has made a desperate situation even worse.
"DEC member charities have been working in Syria for years, and have strong links with trusted local partners.
"They are currently delivering blankets, heaters, water, and cooked food and are coordinating with UN agencies and others to collectively ensure that aid is getting through to the people who need it.
"DEC charities are used to working in fragile contexts such as this and while the needs are huge, donations from the UK public are getting through and making a huge difference to people in desperate need in north-west Syria."