The King became visibly emotional on Tuesday when he visited a pop-up support centre for Syrians who have been affected by the earthquake in the north-west of the country.
Charles toured Syria's House, a community tent which will be open for a week in Trafalgar Square, and met five people who have lost loved ones in the tragedy.
Syrians will be able to come to the house to pay their respects to lost relatives and organise vigils at the centre, which its founders hope will help raise awareness of the continuing humanitarian disaster in the country.
Hundreds of well-wishers had gathered around Trafalgar Square to witness his arrival at the centre.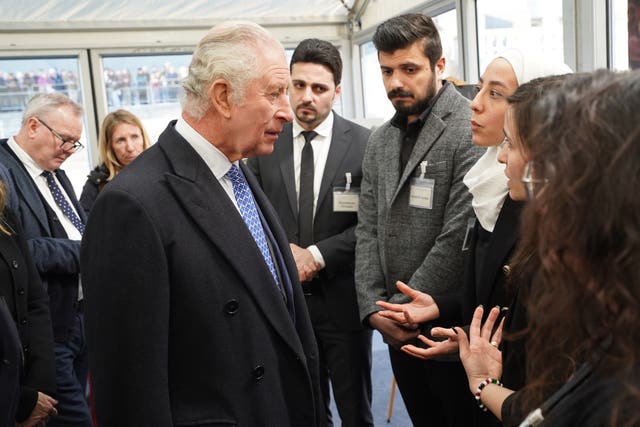 Among those he met was Salah Al-Asmar, a Syrian architect who works with the humanitarian White Helmets group and has been in the UK for two years.
He lost his parents, brother, sister in law and nephew in the earthquake in Antakya, Turkey, after being stuck under the rubble for seven days.
He said: "I am very thankful to His Majesty for his support. I hope the Syrian people appreciate him standing with us.
"We are thanking the King and the British people for supporting the Syrian people during this crisis.
"For seven days, my family were under the rubble. There was no rescue team.
"No-one could support them in this moment. I haven't been able to sleep for days.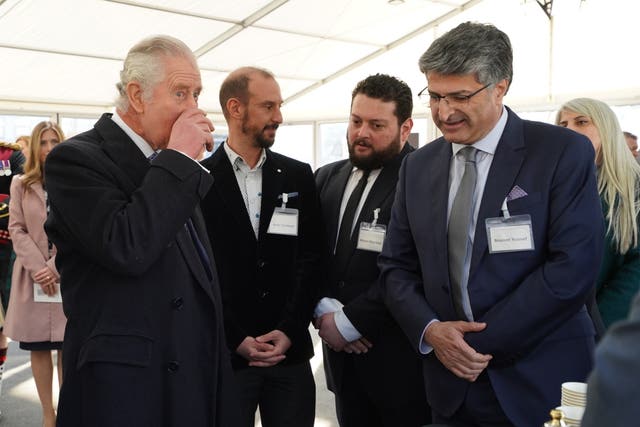 "I think 52 convoys have reached Syria. It is basic aid and there have been no heavy vehicles to find people under the rubble."
Yazan Douedari, who was invited to the event through friends, told PA news agency: "It was very nice to know that the King was here to support the Syrian people.
"People need to shed light on the disaster.
"It is hard to compare disasters but it is one of the massive disasters, and it has been after 13 years of conflict.
"The King was showing his support and was saying 'I can't imagine how hard it has been for you'. He said 'it is terrible'. I saw that he was emotionally affected.
"It means a lot that he came here and is here to support the Syrian people, the victims and their families.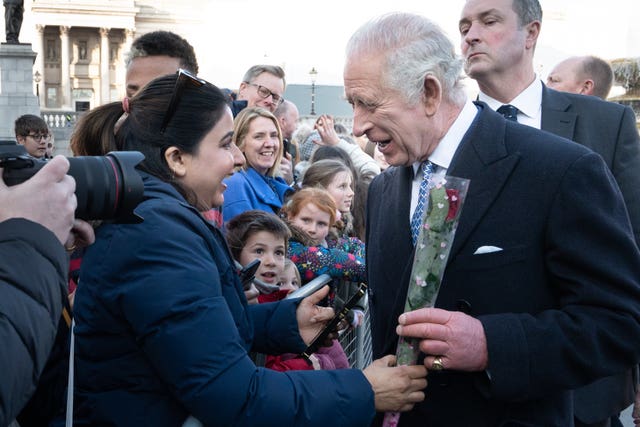 Charles also met Bafta-winning Syrian filmmaker Waad al-Kateab, who produced and narrated the 2019 documentary film For Sama and co-founded campaign group Action for Sama, Action for Sama co-founder Hamza al-Kateab, the centre's founder Ayman Asfari and teacher and activist Afraa Hashem.
London Mayor Sadiq Khan, who attended after granting approval for the tent to be in Trafalgar Square, told PA that Charles' visit "speaks volumes about the King".
He added of the visit: "It was heart-breaking. Some of the stories will never leave you.
"It is really important for those that were here to have the King showing solidarity and shining a spotlight on this important issue."
Charles shook hands with well-wishers, including children who had lined the streets before he left Trafalgar Square.