Music executive Daniel Poku believes his MBE is "100%" about "honouring my folks", and hopefully to also help future generations in the industry.
Mr Poku, 59, also known as Danny D, was watched by his mother Agnes Addai-Poku and his business partner and friend Tim Blacksmith, as he collected his honour for services to music from the King at Windsor Castle.
He recalled how he was raised on a council estate by parents Agnes and James Addai-Poku, originally from Ghana, who took on several jobs to help give him a good start in life.
Now it is important to "try and pay it back" to them and also to try to do good in the community, he said.
Mr Poku said he is in the early stages of maybe trying to open a school that will help people in the music industry who are both in front of and behind the microphone.
After the ceremony at Windsor Castle, Mr Poku, of Polegate, East Sussex, said: "One of the most important things to me right now is about trying to pay it forward to the point where we are looking to a school – that is my big thing now.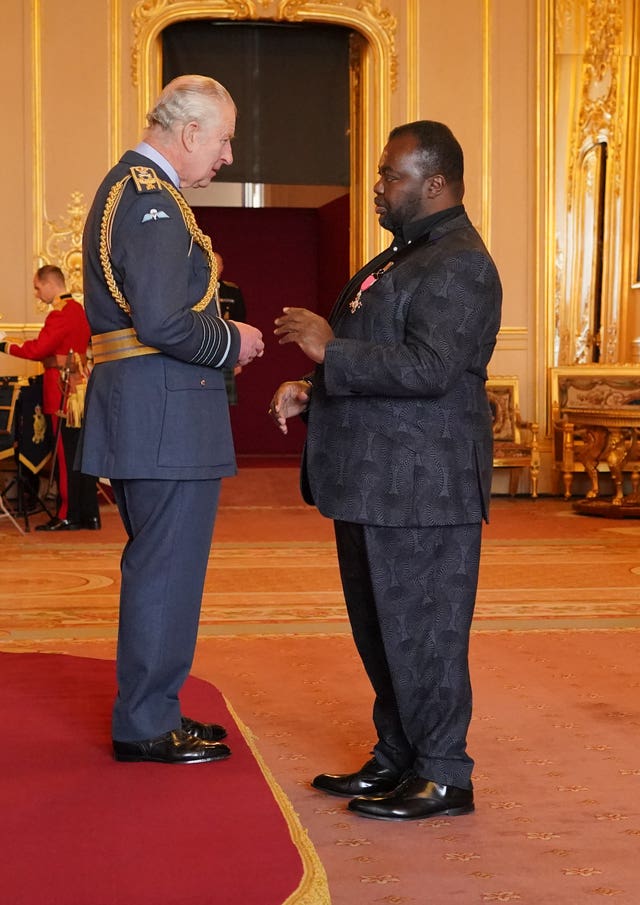 Mr Poku has more than three decades of experience spanning all facets of the industry, including as an artist, remixer, label owner and producer.
Alongside his Tim & Danny Music partner Tim Blacksmith, he formed leading publishing company Stellar Songs, which represents the works of Sam Smith, Charli XCX and Emeli Sande, among others.
Mr Poku said: "Today is a special day, being here with my mum and business partner and friend for 40 years.
"Then to hear my mum say 'I'm so proud of you and I wish your dad was here'. I shed a tear.
"That moment in itself said it all, especially for her. She is someone who came from Africa many years ago and I did not realise what the monarchy meant to her.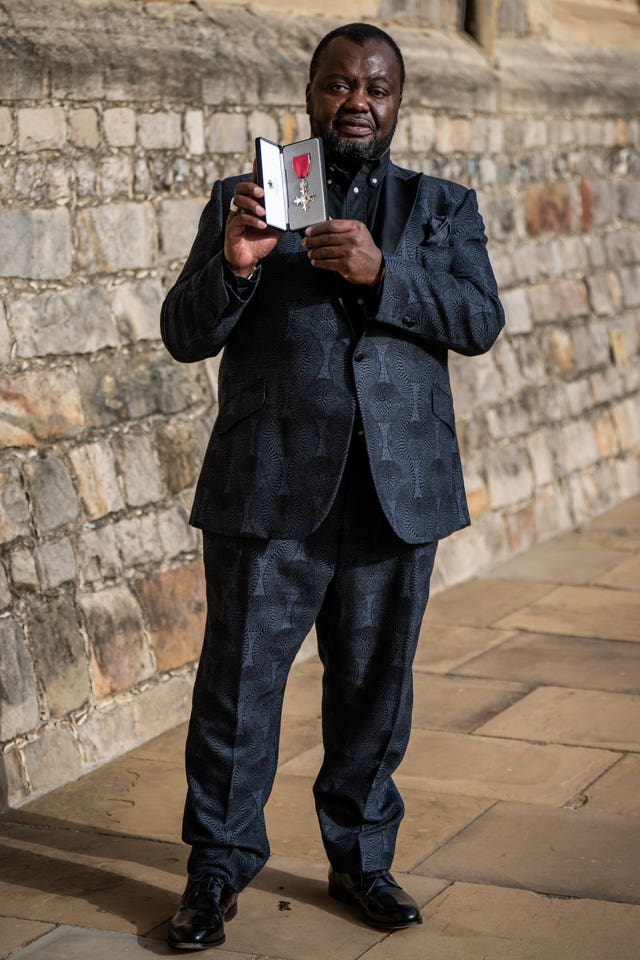 "I must admit that when I first realised I had got the award, I was 50/50 about it because there are certain parts of the monarchy where I thought 'that just does not work for me'.
"But there is the other side of that journey that my parents went on and the sacrifices they made.
"Here I am now being able to turn that into something, and for that reason alone I have to accept this award for them."
Mr Poku said: "This is about honouring my folks 100% – they came from Ghana to get their education and go home, but I came along and they stayed in England to give me a start I would never have had back home.
"It does not mean I would not have been a success but it is also the sacrifices they have made."
His father went out to work and his mother took on two or three jobs "to make sure the wheels turned and to keep a roof over our heads".
They also "steered me back in when I was going down the wong lane", he added.
"This isn't just about me. This is also for me to be able to say thank you to them and for them to realise that we can be someone."