Scotland's Education Secretary has made the fifth pay offer to teachers as the latest threat of strikes looms over the country's schoolchildren as part of a long running pay dispute.
Under the plans announced by Shirley-Anne Somerville on Tuesday evening, teachers earning up to £80,000 would see their pay go up by 6% from April 2022, and then another 5.5% from the start of the 2023 financial year.
The Educational Institute for Scotland (EIS) union had been asking for a 10% pay rise, but Ms Somerville said the demand for an in-year rise of that amount was "unaffordable" and the latest offer was a compromise which was "fair, affordable, and sustainable for everyone involved".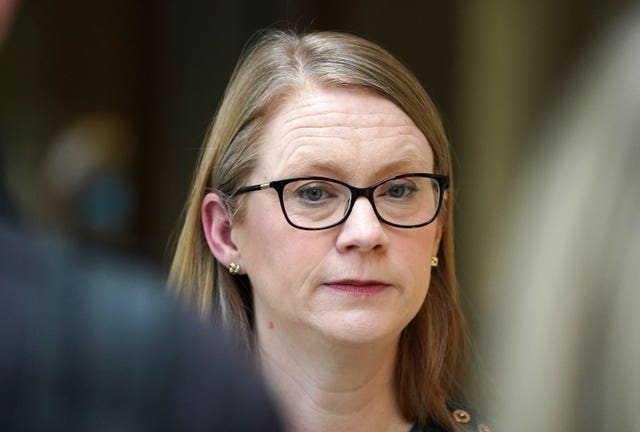 "Difficult decisions will have to be made to free up the required resources.
"This reflects our commitment to reach a fair agreement and avoid further disruption to children and young people's education."
The latest pay offer is to be funded with an extra £156 million of taxpayers' money, and the Scottish Government said in April most teachers would see their pay go up by 11.5% if the deal is accepted.
Ms Somerville called for unions to put the deal to members, and urged for them to suspend action planned while they did so.
The EIS will on Wednesday hold special meetings of its salaries committee and executive committee.
The union said it would discuss a response to the offer, and any potential implications for the planned industrial action in schools across Scotland.
If the union does not suspend the strikes, industrial action will see walk outs continue next week.
In its calendar of strikes, which have been ongoing since November, workers will walk out in First Minister Nicola Sturgeon's Glasgow Southside constituency as well as the Perthshire North area represented by Deputy First Minister John Swinney.
Ms Somerville's constituency would also be targeted, and national walkouts had also been planned for February 28 and March 1 alongside 20 days of rolling strikes from March 13 to April 12.
Katie Hagmann, Cosla's resources spokeswoman, said leaders of the council umbrella group were clear that it was "in all of our interests, not least those of children, young people and families, to conclude the teachers' pay negotiations as quickly as we can to bring back stability and certainty in our schools".
"We are determined to provide a fair and affordable pay offer to all our employees, including teachers," she said.
"In that regard, following today's meeting leaders agreed to mandate me to take a refreshed offer to the Scottish Negotiating Committee for Teachers and we hope that this is acceptable to them."
Under the two year deal, those earning more than £80,000 would see a £4,800 rise in 2022/23, and a £4,400 rise in the following financial year.
The Scottish Government said the deal would bring the starting salary for a fully qualified teacher to £37,719 after probation.
Earlier on Tuesday, Andrea Bradley, the general secretary of EIS, held open the prospect of a two-year pay deal.
She said that "while the Scottish Government has less leeway and flexibility this financial year, it has much more leeway for the next financial year given it does have revenue raising powers, given it does have political priorities to decide upon".
But, she told the BBC, there would have to be "significant movement on the 5% that has been on the table since August" and told the broadcaster it was a offer which had been "overwhelmingly" rejected twice by teachers.