Protests have taken place at some M&S stores in the UK due to a pay dispute.
The Unite union staged the protests due to the retailer's commercial relationship with Logistics Group Holdings Ltd and its subsidiaries, including Arrow XL.
About 350 of the union's members employed by delivery company Arrow XL are involved in a pay dispute with the firm and re-balloting for further industrial action, having been on strike previously.
The union said Arrow XL has offered workers a 5% pay increase, but that this is effectively a pay cut due to inflation.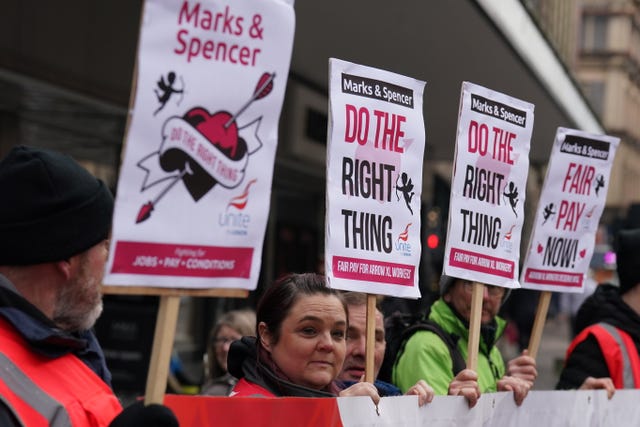 Unite general secretary Sharon Graham said: "Valentine's Day is about love and romance. But this Valentine's Day Arrow XL stands out as a real heartbreaker.
"The bottom line is that M&S is using delivery companies under Logistics Holdings' umbrella, which condemns workers to live on poverty pay."
Unite national officer Adrian Jones said: "Arrow XL has been given numerous opportunities to resolve this dispute through negotiations, but it has refused to do so.
"The company needs to make a realistic offer and return to the negotiating table in order to resolve this dispute."
M&S and Arrow XL have been contacted for comment.