The UK's unemployment rate has remained unchanged despite Britain's economy flatlining as a wave of people returned to work, official figures show.
The Office for National Statistics (ONS) said the rate of UK unemployment was 3.7% in the three months to December, the same rate that was recorded in the three months to November.
However, it had edged higher than the previous calendar quarter, with the unemployment rate standing at 3.6% in the three months to September.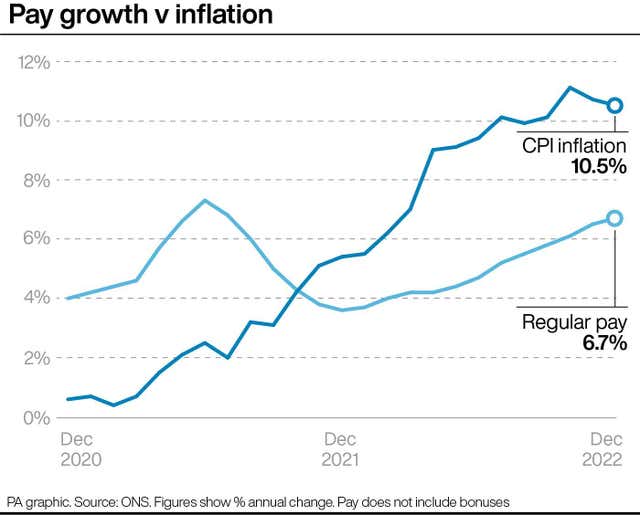 It suggests that wage pressure is continuing to grow for employers who are meeting demands to raise pay as living costs soar.
Nevertheless, wages continued to be outstripped by rising prices.
Once consumer prices index (CPI) inflation is taken into account, regular pay fell by 3.6% in the three-month period, compared with the previous year.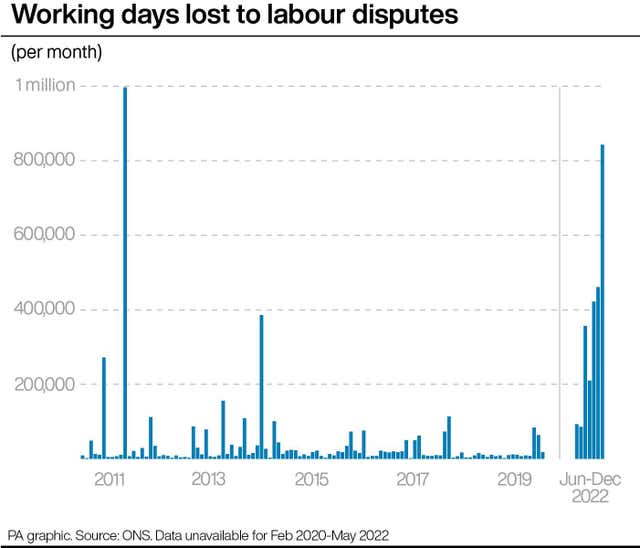 In a sign that the labour market is slowing, the estimated number of vacancies fell by 76,000, the seventh consecutive fall.
This reflects economic pressures and uncertainty leading firms to hold back on recruitment, the ONS said.
It comes after figures last week revealed UK output was flat in the final quarter of 2022, narrowly avoiding recession but seeing growth stagnate ahead of what is expected to be a difficult year for the economy.
The ONS added that there were 843,000 working days lost to strike action in December 2022, which is the highest since November 2011.
There were also signs of a wave of people returning to the workplace amid the cost-of-living crisis as the data showed a record high net flow of people moving from economic inactivity and into employment.
Therefore, the extremely tight labour market seen after the pandemic, where there were record numbers of job vacancies and severe staff shortages, has begun to ease up, the ONS suggested.
The ONS's director of economic statistics, Darren Morgan, said: "The last quarter of 2022 saw fewer people remaining outside the labour market altogether, with some moving straight back into a job and others starting to seek work again.
"This meant that although employment rose again, unemployment edged up also.
"Although there is still a large gap between earnings growth in the public and private sectors, this narrowed slightly in the latest period. Overall, pay, though, continues to be outstripped by rising prices.
"Though still at historically very high levels, job vacancies have dropped again, with a particularly sharp fall from the smallest employers.
"The number of working days lost to strikes rose again sharply in December. Transport and communications remained the most heavily affected area, but this month there was also a large contribution from the health sector."
Chancellor Jeremy Hunt said in response to the unchanged unemployment rate: "In tough times unemployment remaining close to record lows is an encouraging sign of resilience in our labour market.
"The best thing we can do to make people's wages go further is stick to our plan to halve inflation this year."