The UK Government will give another £25 million towards the relief effort following the devastating earthquake in Syria and Turkey.
The £25 million in new overseas aid will fund tents and blankets for families made homeless in freezing conditions, as well as the ongoing deployment of medical expertise at a field hospital in Turkoglu.
The extra aid now brings the UK's total financial support in the wake of the tragedy to to £42.8 million.
Rishi Sunak said the new aid from the UK Government would provide "vital humanitarian assistance" to the victims of the earthquake.
Asked about further UK aid during a visit to Imperial College London on Wednesday, the Prime Minister told broadcasters: "The UK Government has already provided considerable aid but I am pleased to announce today that we are actually going to provide £25 million further financial support.
"That is going to go to the United Nations, to British charities, local charities and the Turkish authorities."
He added: "It is going to provide vital humanitarian assistance on the ground, including medical supplies, tents, blankets and it comes on top of the support we have already provided, including 77 search-and-rescue teams who have been on the ground for a while.
"We will continue to do everything we can to provide help and support on the ground."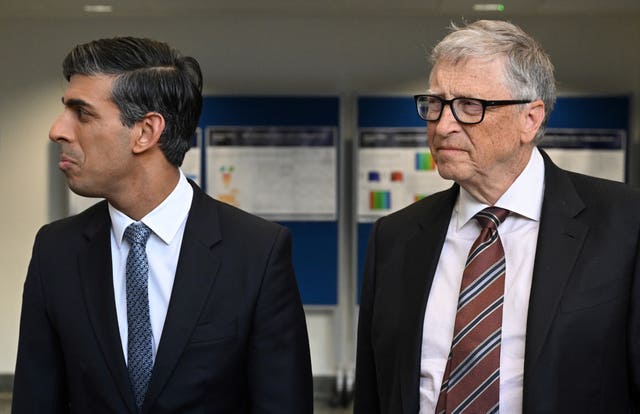 UN officials have warned the number of people killed could exceed 50,000.
The latest financial support from ministers builds on existing UK efforts.
The British Government sent an international search and rescue team to Turkey in the early response to the disaster, and has increased support for the White Helmets volunteer organisation in war-torn Syria.
A joint Foreign Office and Ministry of Defence field hospital, which includes an emergency department, 24-hour operating theatre and accompanying medical staff, is also providing medical care working side-by-side with Turkish medics.
Foreign Office minister Andrew Mitchell said: "As this evolving situation transitions from rescue to recovery, we are seeing thousands of families left homeless by the earthquake, packed into crowded tents or lined up in the streets queuing for hot meals.
"The UK's priority is to ensure that humanitarian assistance reaches people who need it most and that is why I am pleased to announce this additional funding today, which will be so vital in ensuring those affected can begin to rebuild their lives."
A public appeal to help victims of the earthquake by the Disasters Emergency Committee, a non-government organisation bringing together 15 UK aid charities, raised more than £60 million in its first three days.