When Nicola Sturgeon became First Minister of Scotland in 2014, David Cameron was prime minister, the UK was still in the European Union and Cilla Black was still alive.
Since then, the UK has changed prime ministers four times and left the EU, while a host of famous names – from David Bowie to Victoria Wood – have died.
Ms Sturgeon is already the longest-serving First Minister in history and will step down having clocked up more than eight years in the role.
Her predecessor and former SNP leader Alex Salmond held the post for seven-and-a-half years.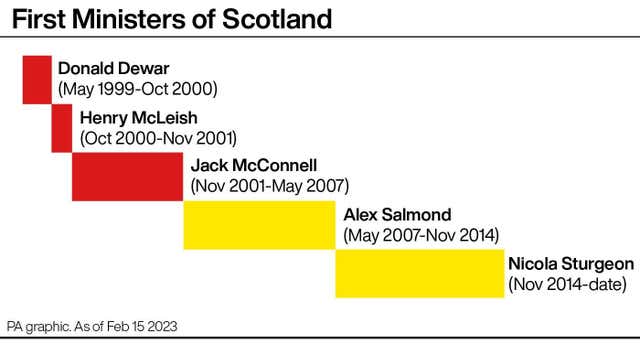 There have been three leaders of the Labour party (Ed Miliband, Jeremy Corbyn and Sir Keir Starmer) and five leaders of the Liberal Democrats (Nick Clegg, Tim Farron, Sir Vince Cable, Jo Swinson and Sir Ed Davey).
As well as leading the SNP in three general elections (2015, 2017 and 2019), Ms Sturgeon also led the party through two Scottish parliamentary elections (2016 and 2021), two rounds of Scottish local elections (2017 and 2022) and the 2019 European elections.
In 2015 she steered the SNP to its best ever performance at a UK general election, winning 56 of the 59 seats in Scotland, a huge increase from six seats at the 2010 election.
At the 2017 election, the party fell back to 35 seats, but improved its performance in 2019 to win 48.
Barack Obama was president of the United States when she first took office, Francois Hollande was president of France, and Angela Merkel still had another seven years to go as chancellor of Germany.
For the majority of Ms Sturgeon's time in the job, opinion polls have suggested there is slightly more support for Scotland remaining part of the UK rather than becoming independent, though there was a period in the second half of 2020 when support for independence was consistently ahead.
The most recent independence poll from YouGov, in January 2023, had Yes on 40%, No on 46% and don't knows on 10%.
Excluding don't knows, the figures were 47% Yes and 53% No.
Along with the deaths of many well-known figures from stage, screen and music, Ms Sturgeon's stint as First Minister also saw the death of the Duke of Edinburgh in April 2021 and the Queen in September 2022, the latter taking place at Balmoral Castle in Scotland.