The Liberal Democrats have responded to a request by a Conservative MP to deliver 48,000 posters criticising his views on the death penalty and foodbanks.
Two Lib Dem councillors wheeled several boxes of posters to the constituency office of Lee Anderson, Tory MP for Ashfield, on Wednesday.
Mr Anderson had shared a picture of what he described as an "attack poster" on his Twitter account on Saturday, and said: "Please drop me 48,000 off and I will deliver them myself in Ashfield."
But when the Lib Dems arrived on Wednesday afternoon, they were told by one of Mr Anderson's staff members that they couldn't drop the posters off at his constituency office in Sutton-in-Ashfield, Nottinghamshire, as according to a staff member, they could not be delivered to a parliamentary office due to it being paid for by the taxpayer.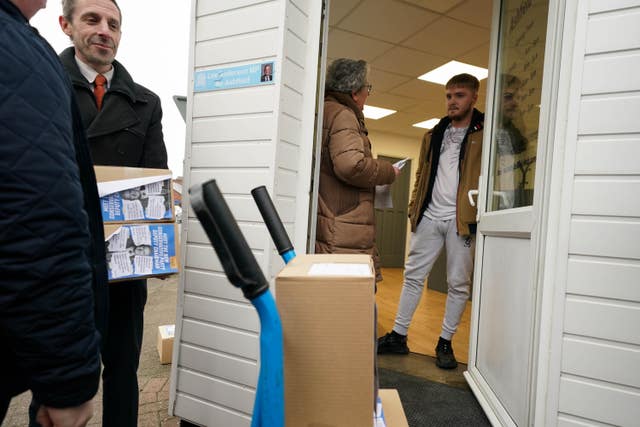 Baroness Pinnock said: "This is not a political stunt. Lee Anderson is deputy chairman of the Conservative Party.
"He is the voice to the nation of the Conservatives, and he is saying the sort of things that most people would find abhorrent.
"That is why they turn to foodbanks: in desperation, and he is just not in touch with the majority of people here in Ashfield or in most of the other parts of the country."
Following the refusal, a Lib Dem party spokesman said that they would be taken back to the printing office in Chesterfield, Derbyshire, and redistributed in Tory blue wall seats.
He said: "We challenged Lee Anderson to do this. He doesn't want to do it.
"We will take them back to the printers and see if they can be used in Blue Wall seats, where these views go down truly badly."
The poster includes an image of Mr Anderson, who is deputy chairman of the Conservative Party, and images of newspaper headlines including his views, such as "People who use food banks can't cook properly", which he claimed in May 2019, and "nobody has ever committed a crime after being executed. 100% success rate", which he claimed earlier this month.
The posters were funded by Lib Dem party members following an email call-out after Mr Anderson's tweet, with the party spokesman saying that the call was responded to "very well".
While he would not reveal the cost it took to print the posters, he said that the party raised a "significant amount more money than what they cost" and the rest of the money would be spent on party activities elsewhere.
There are no Lib Dem councillors on Ashfield District Council, which is run by the Ashfield Independents.
Cllr Tim Hallam, who joined Baroness Pinnock, represents Stapleford South East ward on neighbouring Broxtowe Borough Council, and said that Mr Anderson had "failed" by not taking the posters, which amounted to "another broken Tory promise".
He said: "We hope he makes good on his promise soon.
"We're more than happy to work together, but if he thinks what he says is not contemptible, and he thinks that it represents people in this constituency, then he has got it dead wrong, and we're happy to tell people what he is all about."
Tweeting a response to the incident, Mr Anderson said: "Looks like the Lib Dems have failed again.
"I am in Westminster and you must know that political leaflets must not be stored in an MPs office. This is basic stuff.
"Surely you know tax payer funded MPs offices should not be used for storing leaflets as it goes against the rules."
Since becoming deputy chairman of the Tory party on February 7, Mr Anderson has indicated his support for bringing back the death penalty and previously claimed no firefighters in his constituency use a foodbank.
On Monday, a law firm, Bindmans LLP, said it had been instructed to pursue libel proceedings against Mr Anderson after he "made defamatory allegations of bribery" on social media.