A teaching union has rejected the latest pay offer put to it by Scotland's Education Secretary with schoolchildren set to face more disruption.
Shirley-Anne Somerville said teachers who earn up to £80,000 would be given a 6% pay boost backdated to April 2022 and a further 5.5% from the start of the 2023 financial year, in what was the fifth offer put to them.
But Andrea Bradley, the general secretary of the Educational Institute of Scotland (EIS), dismissed the offer as "inadequate", and said the union's executive committee had "unanimously agreed that the current programme of strike action will continue as scheduled".
Ms Somerville said the decision was "deeply disappointing" for the union to reject the offer without consulting its members, and branded the scheduled walkouts as "damaging".
And schoolchildren across Scotland will face further disruption in the run-up to their exams.
The fresh deal, which has come after ministers found another £156 million of taxpayers' money to fund the pay rises, was put to teachers on Tuesday evening after being agreed at a crunch meeting of Cosla officials, the umbrella body of council officials.
They said it would represent a 11.5% rise over the two years.
On Wednesday, the EIS union's salaries committee met, which rejected the offer, before a special meeting of the union's executive committee made its decision to continue the strike campaign.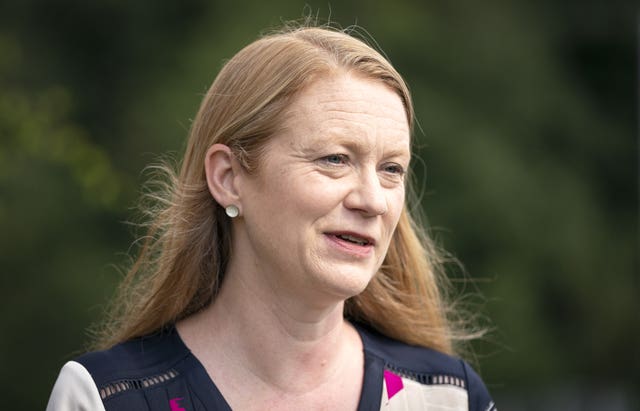 "The 6% offer for this year is only 1% less of a pay cut than that previously offered, twice, by the Scottish Government and Cosla.
"Teachers have already lost more than 1% of their salaries through being forced into strike action so, essentially, teachers already more than paid for this revised offer themselves.
"This is just yet more smoke and mirrors from the Scottish Government and Cosla in attempting to make this offer appear more generous than it actually is."
Ms Bradley also criticised the second year offer of 5.5%, and said it had not been negotiated in the correct forum.
"In attempting to tag on next year's pay settlement, without any negotiation at all, the Scottish Government and Cosla are attempting to tie the hands not just of teacher trade unions but all public sector unions – and this is unacceptable to the EIS," she said.
Patrick Roach, general secretary of NASUWT, said it would consider the offer but warned it was "substantially adrift from a real terms pay award and does not offer the package of pay restoration that our members would expect".
But Ms Somerville said it was a "fair offer" which would have "meant a salary rise of 11.5% for most teachers in April, with a cumulative rise of almost 30% since January 2018."
"We looked for compromise – as we were asked to do – and dug deep under very challenging financial circumstances to arrive at a deal that is affordable and sustainable," she said.
"I urge the unions to continue discussions with the Scottish Government and Cosla so this dispute can be resolved as soon as possible.
"I appeal, again, for unions to suspend planned strike action while talks are ongoing to avoid further disruption to our children and young people's education."
Under the current programme of strikes, in addition to the targeted strikes in senior politicians' constituencies, teachers will walk out on February 28 and March 1 in a national strike.
And schoolchildren will face further disruption to their education with 20 days of rolling strikes across Scotland's local authorities between March 13 and April 21.
Michael Marra, Scottish Labour's education spokesman, called for the speed of talks to be increased.
"We cannot afford more disruption in our schools with the exam season approaching and our young people already suffering from huge loss of learning through the pandemic years," he said.
"The SNP must now seek to move to rolling negotiation. We waited three months for this latest offer to be made.
"Ministers must be back at the table this week with councils and unions to strike a deal."
And Alex Cole-Hamilton, leader of the Scottish Liberal Democrats, said: "To get Scottish education back on track, we need to get the basics right.
"That means boosting pay and conditions for staff, permanent contracts, creating more time for lesson planning and cutting class sizes so that pupils get the support they deserve."
Scottish Conservative education spokesman Stephen Kerr said the news EIS had rejected the offer had come as "little surprise".
"This dispute has gone on long enough. The onus is on Shirley-Anne Somerville to show far more urgency and ensure a solution is finally found," he said.
Dismissing the pay offer on Wednesday, Ms Bradley said the Scottish Government and Cosla had acted in an "unacceptable" manner.
"Their emphasis throughout has been on spin rather than genuine attempts to reach an agreed pay settlement through proper negotiation," she said.