A rape suspect facing extradition to the US has had a fresh request for bail denied over concerns he continues to be a "significant" flight risk.
Nicholas Rossi tried to con the Scottish courts last year into believing he was Arthur Knight, a Irish orphan who had never been to the US.
But, after 11 months of court hearings, a sheriff ruled he was Rossi, a 36-year-old man that American authorities were seeking in connection with sexual assault charges.
It has been alleged he faked his own death in 2020 and fled to Scotland to evade prosecution before he was arrested in December 2021.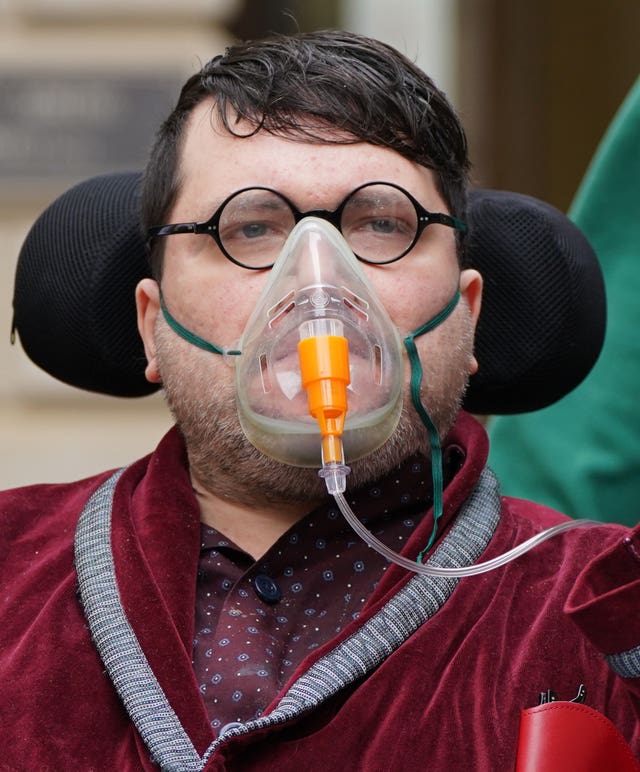 The lawyer said being held in custody has had a "very serious" impact on Rossi.
Mr Bovey told the court the tenancy that Rossi and his wife, Miranda, have is coming to an end, and therefore she is "facing losing her accommodation at a time when she is facing a health crisis".
Mr Bovey said his client, whom he still refers to as Mr Knight, has been subject to "special security measures" in HMP Edinburgh, and "his electric wheelchair was removed from him within the prison with the effect of limiting his mobility and quality of life".
Mr Bovey insisted the couple would offer a number of security provisions if Rossi was to be granted bail, including for him to wear a tag or be subject to a curfew, or for Miranda to surrender her passport – adding that his client does not own one.
"The circumstances of the case are such that there is no need for him to continue in custody and no significant risk of him absconding," Mr Bovey said.
But sheriff Christopher Dickson denied the request, saying Rossi still posed "a substantial risk of absconding" and remanded him in custody.
Wednesday's evidential hearing was called to address Rossi's identity in relation to a second extradition request from US authorities.
The request is connected to a second rape allegation which was brought to the Scottish courts' attention during Rossi's formal identification hearing in November last year.
Advocate depute Paul Harvey told the court: "The person that the US seek in the first (extradition) request is the same person they seek in the second request. The Americans are quite clear they want the same person.
"It's one person, and two requests."
Sheriff Dickson confirmed before the court that both the first and second extradition request are in relation to the same person who is wanted by the US.
"I find the person appearing before me is Nicholas Rossi who is the person who is wanted for extradition by the US," he added.
Earlier, Rossi made several attempts to talk to sheriff Dickson himself during proceedings and was told to shush by the court clerk, to which he snapped: "Don't tell me to shush."
The court was adjourned until Friday when it will hear discussions on court documents required for proceedings, including NHS Scotland and Scottish Prison Service medical records for Rossi.
The full extradition hearing, for both requests, is expected to happen on March 6.