Nicola Sturgeon may be walking away from the top job in Scotland but her shadow will remain for whoever comes next.
And what comes next for Ms Sturgeon, after eight years in the role, will not only be a pressing question for her, but for her successor, her party, Scotland, and perhaps even the union.
In her remarks in Edinburgh on Wednesday, the 52-year-old made clear that although she will stand down as First Minister, she is not "leaving politics".
She will remain in the Scottish Parliament, she said, "certainly" until the next election, and then she intends "like all MSPs to take a decision about beyond that nearer the time".
But while she plans to carry on in politics, at least for the next few years – the next Holyrood election is expected in 2026 – she also strongly suggested her standing down is linked to a desire to give more time and energy to things outside the political sphere.
She told the press conference: "I'm looking forward to new opportunities, new challenges, and just a new way of living life.
"And perhaps and above all else, that's what I'm most looking forward to, just a different way of living life, catching up with the people, the friends that I've not had much opportunity to spend time with. But watch this space, there is plenty more to come."
"I've been Nicola Sturgeon the politician for all of my life. It's been a privilege," she said, adding: "Having reached this stage in my life, maybe I want to spend a bit of time on Nicola Sturgeon the person, the human being, and contribute differently."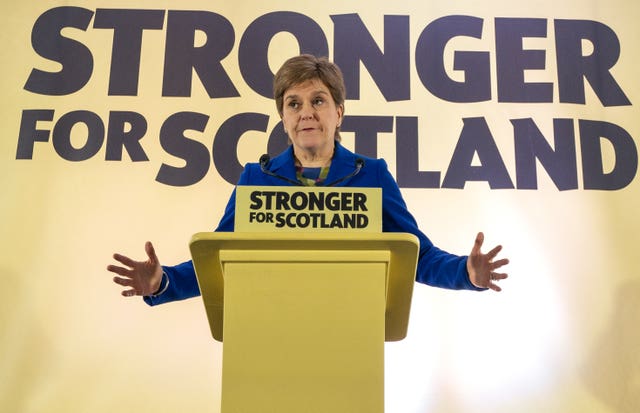 She also said in the Vogue interview that after leaving Holyrood she would like to write about her time in politics, "even if only for therapy and for myself".
For some, the unexpected announcement of her departure and her suggestion that she does not have the energy to continue as before, will have echoes of Jacinda Ardern's resignation as New Zealand's prime minister last month.
But although Ms Sturgeon, the longest-serving and first female First Minister, has suggested she wants to spend more time with family and friends, she also made clear she intends to continue using her political voice, at least on certain subjects.
"There are many issues I care deeply about and hope to champion in future," Ms Sturgeon said in her resignation speech on Wednesday.
"One of these is The Promise – the national mission, so close to my heart, to improve the life chances of care-experienced young people and ensure that they grow up nurtured and loved.
"My commitment to these young people will be lifelong."
She also said she will be the "strongest most strenuous advocate" for criminal justice system reforms around improving access to justice for victims of sexual offences.
On the big question of independence, she said: "I intend to be there as it is won, every step of the way."
She said her standing down as First Minister would "free" the SNP to take a decision on how best to pursue independence "without worrying about the perceived implications for my leadership".
Her party is holding a special Democracy Scotland conference next month to decide on a "clear pathway" forward in its hopes to secure independence.
In her resignation speech, Ms Sturgeon acknowledged that her voice as leader would likely carry "decisive weight" on the issue. Her departure therefore creates greater potential for alternative views within her party on how to proceed.
Who exactly her successor should be, Ms Sturgeon would not say, while also appearing to rule out endorsing any particular candidate.
She said: "This is a question that no matter how many times you ask it of me over the next few weeks, no matter how many inventive ways you find of asking it, I'm not going to say who my preference will be to succeed me.
"What I do know is that the SNP is awash with talented individuals."
She did say that, whoever her successor may be, she believes they will be the one to lead Scotland to independence.
Ms Sturgeon knows the pressure that comes from taking on the top job from a high-profile predecessor. Alex Salmond continued to express opinions on thorny topics for the party long after stepping down as leader, and he now leads a rival party.
And although she insisted her decision to stand down was not a question of recent short-term pressures, she also acknowledged she is leaving a Scottish Government confronting "difficult issues".
Whatever Ms Sturgeon plans to do next, in her own words, compared with being Scotland's First Minister "nothing – absolutely nothing – I do in future will ever come anywhere close".