The Prime Minister and the French president have met in Paris at the start of a UK-France summit as they discuss how to prevent migrants from crossing the Channel unlawfully.
Rishi Sunak has set preventing the small boats from crossing the strait between England and France as one of his top five priorities ahead of the next election.
They are expected to build on a deal announced in November, with the UK agreeing in the autumn to provide £63 million to Paris in a bid to clampdown on trafficking gangs.
Under the commitment, the number of French officers patrolling beaches on the country's northern coastline rose from 200 to 300, while British officers for the first time were also permitted to be stationed in French control rooms and on the approaches to beaches to observe operations.
Despite the measures, more than 3,000 people have arrived via small boats in the UK already this year, with almost 46,000 arriving in 2022.
It was reported by the Daily Express that Mr Sunak is ready to give the green light to a deal that would secure a multi-year migration agreement with Paris, which would include Britain paying millions of pounds to France every year to increase the number of patrol officers on French beaches.
Foreign Secretary James Cleverly appeared to confirm that any fresh pact would involve more UK investment.
Speaking from Paris, he told BBC Breakfast: "It will cost money, it has cost money and of course we will be negotiating how we fund that joint work to prevent those migration attempts across the Channel.
"I'm not going to speculate as to the outcomes of the negotiation but we have been spending money doing this, it's right and proper that we do and of course we will be spending money in the future."
No 10 has remained tight-lipped on the prospect of a deal being given the green light at the summit but has said the Prime Minister will be calling on his counterpart to "go further" on measures to stop the boats.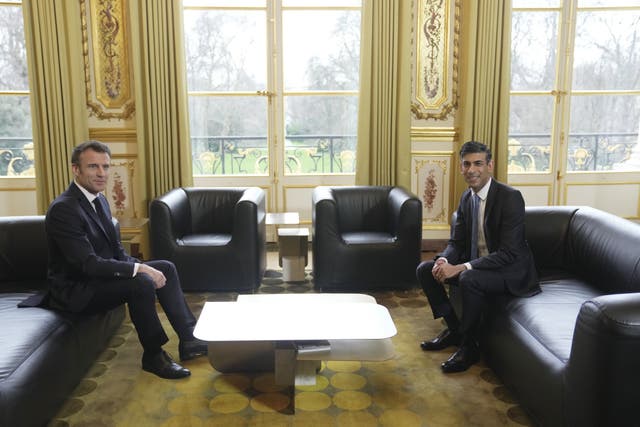 "It's great to be in Paris."
The talks between the leaders comes days after Mr Sunak and Home Secretary Suella Braverman, who was also meeting with her counterpart in the French capital on Friday, unveiled the Illegal Migration Bill.
The legislation announced on Tuesday would see migrants who arrive through unauthorised means deported and hit with a lifetime ban from returning.
It is thought Mr Macron is likely to want to hear from the Prime Minister about how the Bill will make Britain a less attractive destination for migrants.
The summit is the first since 2018 when Theresa May was in Downing Street, with cross-Channel relations proving frosty during Boris Johnson and Liz Truss's tenures.
However, Mr Sunak and Mr Macron have appeared to be on friendlier terms since the Conservative Party leader entered No 10 in October.