Sir Keir Starmer has said Labour's efforts to drive growth will be "transformational" for the Scottish economy.
During a visit on Friday to the technology company Siemens near Glasgow with shadow chancellor Rachel Reeves and Scottish Labour leader Anas Sarwar, Sir Keir pledged to put Scottish innovation at the heart of his party's plans for the economy.
After meeting apprentices at the site, the Labour leader said: "What I want is an economy in Scotland that is bursting forward. We have a mission for the next Labour government to have the highest sustained growth in the G7.
"For Scotland, that would take us hugely forward with the jobs of the future, the skills of the future. It would be transformational.
Sir Keir was promoting his party's plans to "turbocharge" spin-out investment at Scottish universities, while areas such as Glasgow could benefit from the focus on boosting growth and data and life sciences included in Labour's industrial strategy.
The renewables sector could also benefit from the party's other policies, with Labour pledging to deliver the upfront funding needed.
He said: "What's really important about this transition [towards renewable energy] is that a lot of the oil and gas companies in Scotland want to be part of that conversation with us, they are saying to us that 'we want to do this with you, we have ambition to do it by 2030 but it is going to be tough'.
"My approach is that some country is going to get there first, why shouldn't it be Scotland? Why shouldn't it be Britain?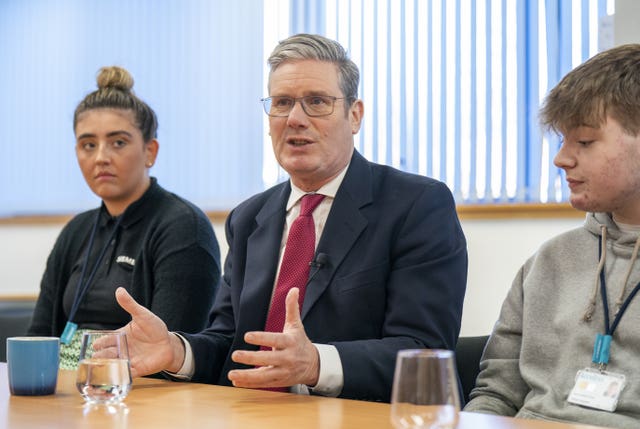 He promised that if voted into power at Westminster, Labour would deliver "a mission-driven government that will end sticking plaster politics, will unlock the pride and purpose that is in every community, will give this country its confidence, its hope, its future back".
However SNP Westminster deputy leader Mhairi Black said: "Keir Starmer is happy to throw Scotland under Boris Johnson's Brexit bus – and as such he has zero credibility in talking about Scotland's economy.
"Under him and Anas Sarwar, Labour is a pro-Brexit party that would do nothing to reverse the appalling damage the Tories are inflicting on Scotland having dragged us out of the EU.
"Instead Labour stand side by side with the Tories in keeping us locked outside the single market, which is seven times the size of the UK's.
"It is clearer by the day that the only way for Scotland to flourish is by becoming an independent country and rejoining the European Union."
Scottish Conservative finance spokeswoman Liz Smith said: "The SNP Government's record on productivity and growth is dreadful – but there's no reason to think Labour would do any better.
"Keir Starmer is ignoring the fact that, under Anas Sarwar, Scottish Labour has consistently backed the very SNP policies that have stifled economic growth and made Scotland uncompetitive."