President Emmanuel Macron has said he wants France to have the "best possible relations" with the UK but that they need to "fix" the consequences of Brexit.
Following talks in Paris with Rishi Sunak, the French leader hailed a "new beginning" in the Anglo-French relationship following the turbulence of recent years.
While he welcomed Mr Sunak's Windsor Framework agreement with Brussels on trading arrangements with Northern Ireland, he also made clear there was still unfinished business from the UK's departure from the EU.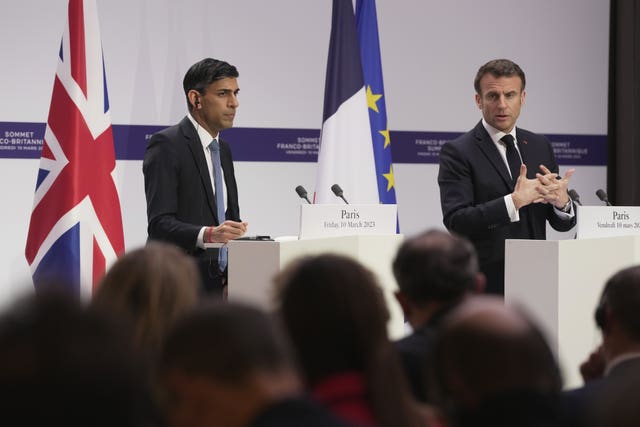 "What we want to do now is build new partnerships on defence and security, on facing the war (in Ukraine), regarding climate change, in order to co-ordinate our international activity. And for our businesses and our people we want to build new links, new relations.
"My wish, definitely, because it makes sense with our history, our geography, our DNA, I would say, is to have the best possible relations and the closest alliance.
The meeting marked the first Anglo-French summit in five years, after relations between the two countries soured under Boris Johnson, with the French leader making clear he did not trust the former prime minister.
Mr Macron seemed particularly pleased at a commitment to facilitate school visits between the two countries.
Speaking afterwards at the press conference, Mr Sunak said: "I always say, we left the EU but we didn't leave Europe. Emmanuel said previously 'Brexit didn't change geography'.
"We want to have a close, co-operative, collaborative relationship with our European partners and allies. And of course, that starts with our nearest neighbour, France, and today is the first step on that journey.
"We're writing a new chapter in this relationship, and I'm really looking forward to everything that we can build on in the coming months and years ahead."