An Insulate Britain protester has been jailed for five weeks for blocking traffic on the M4 after he pledged to continue disruptive action.
Stephen Pritchard, 63, from Bath, was jailed at Inner London Crown Court on Monday over a demonstration which saw him and several others disrupt 10,000 vehicles at Junction 3 of the motorway on October 1, 2021.
His co-defendants – former probation officer Ruth Cook, 71, gardener Roman Paluch-Machnik, 29, and carpenter Oliver Rock, 42 – were each given six-week sentences suspended for 18 months on the proviso they do not offend again.
The three were also ordered to serve 100 hours' community service.
The other three defendants previously said they had been deterred from such protests by experiences in court and prison.
Judge Reid told Pritchard: "It is not appropriate for me to suspend the inevitable sentence… you will serve up to half of your sentence in prison."
Speaking to all four defendants, he said: "None of you have shown any remorse for your actions and in fact wear them with pride."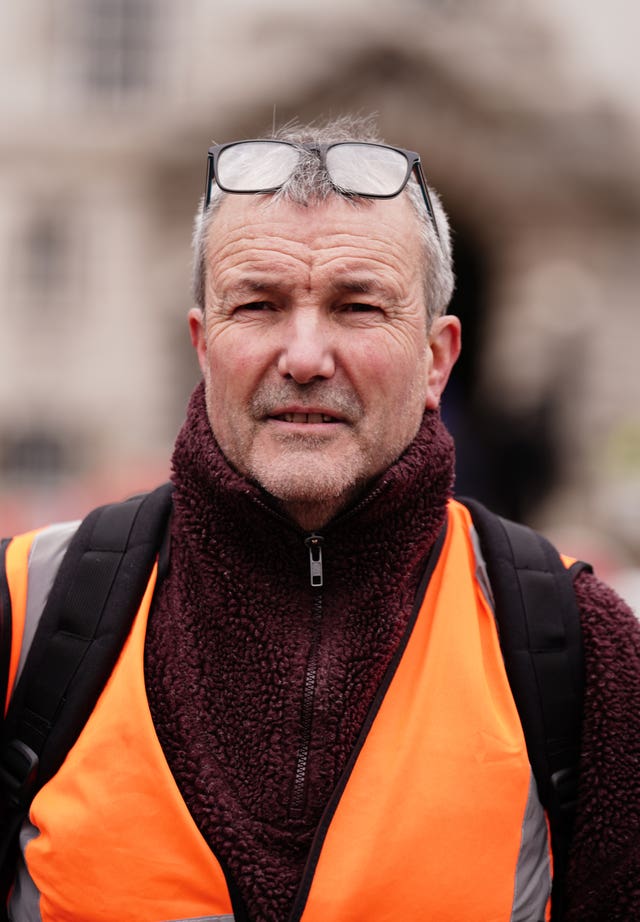 Judge Reid said they had shown a "level of planning and sophistication" through the fact they had "been to the scene the day before on a scouting mission".
The activists also planned to let emergency vehicles pass, and Judge Reid said there is "no evidence" that any were delayed by the demonstration.
However, he added that there was still a risk they could have been "caught up in other congestion around the road".
"Well over 10,000 people were significantly negatively impacted by your actions.
"People would have lost earnings, missed appointments and potentially missed flights.
"This was a carefully planned sophisticated operation… each of you have high culpability for this deliberately criminal action".
Judge Reid said the "appropriate sentence" for such action would normally be "in the region of 12 months imprisonment", but this was reduced by the protesters' aim of bringing attention to the climate crisis.
Insulate Britain said this was the first time climate activists in the UK had been found guilty of the common law offence, which carries a maximum penalty of lifetime imprisonment.
Judge Reid gave the defendants the opportunity to outline their motivation after their conviction, because "motivation is relevant to sentence" but not to whether they committed the crime of public nuisance.
"The court has to look at why someone has committed a criminal offence," he said. "You each spoke eloquently about your beliefs."
A handful of supporters in the public gallery applauded and shouted "we love you, Steve", as the judge ordered him to follow a probation officer at the end of the hearing.
Speaking to the PA news agency afterwards, Cook, Rock and Paluch-Machnik praised Pritchard for his "bravery" and said it had been difficult for them to promise not to take part in future disruption.
Rock, from Dulwich, south London, said: "I'm sad to see that brave man go to prison today.
"I feel enormous gratitude to him for the strength of his convictions and his bravery.
"Telling the truth when you know it's going to cost you is an amazing example."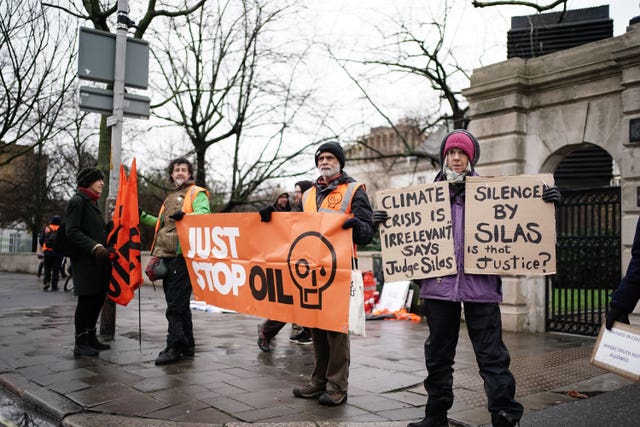 Speaking about Pritchard, she added: "He is such a man of principle and he has been to prison before – he knows what it's going to be like – and he knows how hard it is going to be on his family."
Paluch-Machnik said their sentences had been dependent on their future plans, and there had been "a complete disregard for the things we were actually talking about".
The trio suggested that they would modify their protest tactics in response to accumulating court action against other Insulate Britain and Just Stop Oil members.
Rock said: "In this non-violent struggle, your enemy chooses the terrain in which you fight.
"Imprisoning peaceful protesters has changed the terrain and we have to choose how we react to that."
Along with the suspended sentences, Cook was ordered to pay £3,763, based on her means, while Rock was ordered to pay a £128 surcharge.