SNP leadership hopeful Kate Forbes has urged the Scottish Greens to respect the outcome of the contest amid claims they could block her becoming First Minister.
Ms Forbes and her campaign opponent Ash Regan have both suggested revisions could be needed to the Bute House Agreement with the Scottish Greens.
The deal, signed in 2021, offers support for SNP policies in Holyrood in exchange for the Greens entering Government with two ministerial positions.
But during the SNP's final hustings in Aberdeen on Sunday, leadership rival Humza Yousaf said any changes to the crucial agreement could see the Greens walk away from the deal.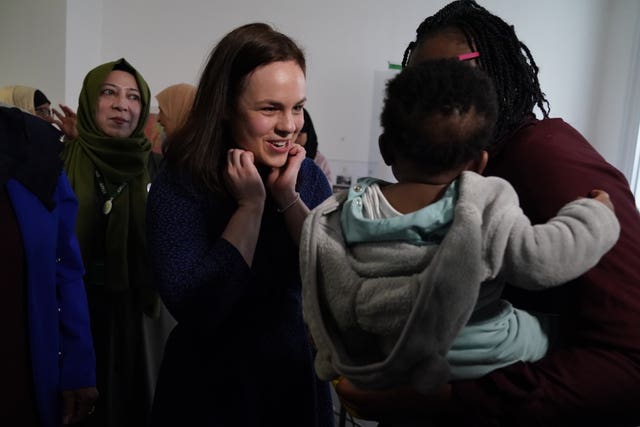 Ms Forbes, however, told journalists on Monday that it would be undemocratic for opposition parties to block the process.
Speaking during a visit to the Empower Women for Change organisation in Glasgow, she urged her opponents to avoid playing political games: "It is for other parties to determine what they do, but I think they would earn the wrath of the Scottish people if they stood in the way of a new first minister getting to grips with the big issues that face the people of Scotland.
"The people of Scotland, I think, can get pretty cheesed off, pretty fed up if, in the grip of a cost-of-living crisis, when waiting times in our NHS are too long, that they're seeing politicians playing games and not getting behind the new first minister.
"We know their priorities, all the polling demonstrates what their priorities are. I think they want to find someone who will get on with the act of governing and delivering results in these core issues."
She added that she would respect "the democratic process", and urged her opponents to do the same.
Voting officially opened on Monday for SNP members to select their preferences to replace Ms Sturgeon.
Ms Forbes said she was "confident" of securing the votes, but said the campaign had been "brutal".
She said: "It has been a challenging campaign, I think it has been quite a brutal campaign from the very beginning.
"And I would uphold my other candidate's commitment to being unremittingly positive, and that should also apply to perhaps weaponising their personal faith."
She added: "I'm very confident in SNP voters. I think they've seen and heard a lot from the candidates.
"I think we're all very different candidates and, ultimately, my feedback from members is that they want somebody who can govern Scotland well, can make the economic case for independence and to persuade no voters to vote yes."
Scottish Greens co-leader Patrick Harvie said his party will not "influence" the leadership contest but said Ms Sturgeon's successor must be committed to the values of the deal.
He said: "The Scottish Greens are clear that the SNP leadership is a matter for their members, and their members only, and rightly so. We will not seek to influence it. We will discuss the results and its implications as soon as it is known.
"We have said repeatedly that we remain committed to the spirit and the values of the Bute House Agreement struck with the current First Minister, and if her successor shares a clear commitment to that agreement, which was approved overwhelmingly by the members of both parties, we remain ready to shoulder the shared responsibility and roadmap for delivering on the work we have already started."
Co-leader Lorna Slater said: "As a party, we will always fight for people and planet. Regardless of who is First Minister, we will remain committed to the progressive politics that can deliver a fairer, greener Scotland."