The majority of Scots believe the candidates to replace Nicola Sturgeon would be worse than the outgoing First Minister, a poll has suggested.
The poll, of 1,002 Scots between March 9 and 13, was released on Monday in the hours after voting for the next SNP leader opened.
Kate Forbes, Ash Regan and Humza Yousaf were put to the participants, with pollster YouGov – commissioned by Sky News – asking if the prospective leaders would be better than their predecessor.
Ms Forbes was rated best, with 17% saying she would be better than Ms Sturgeon, but 33% saying she would be worse.
A further 21% said there would be little change between administrations, while 28% said they were not sure.
Ms Regan was the next best rated, with just 8% thinking she would be a better first minister, compared to 38% who said she would be worse and 35% who were unsure.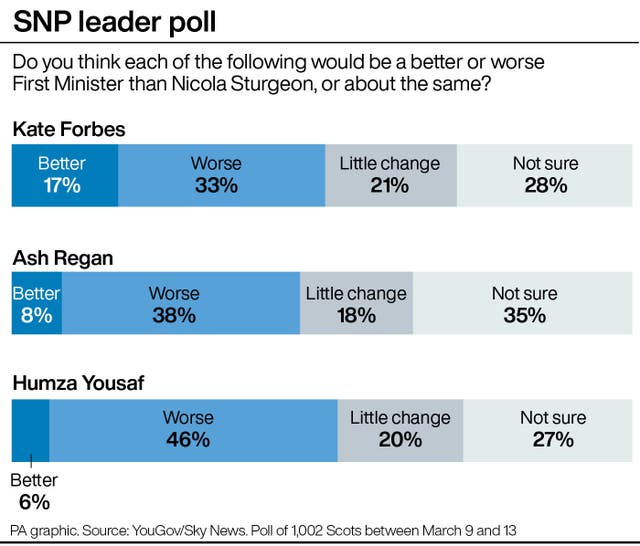 According to the survey, 20% said he would be roughly the same as Ms Sturgeon and 27% were unsure.
In the same poll, more respondents thought the candidates would be a bad first minster than a good one.
Ms Forbes was again viewed as the best option, with 27% saying she would be a good fit for the role, with 36% claiming she would be bad and 36% being unsure.
Mr Yousaf was next, with 22% saying he would be a good first minister, while 44% – the most of all the candidates – believed he would be bad and 33% saying they were unsure.
Ms Regan, who has long been considered an outside candidate for the job, is viewed by 14% of the public as good for the role, compared to 39% who believed she would be a bad fit and 47% being unsure.
Elsewhere in the survey, support for independence stagnated, with 46% of decided voters supporting separation, while 54% being against – the same as the previous poll done in February.
SNP president Mike Russell said the 46% figure was a "rock solid starting point" for a future independence campaign, adding that "the opposition know that a referendum is on them to lose".
Controversial gender reforms have featured heavily in the race thus far, with the candidates laying out differing visions for dealing with the Section 35 order that blocked the Gender Recognition Reform (Scotland) Bill.
Mr Yousaf pledged to fight the order in court and has said he would seek to remove Section 35 from the Scotland Act, while Kate Forbes gave a commitment to re-work the legislation and bring it back to Parliament.
Ms Regan, who resigned from Government in protest over the legislation, said she would drop the Bill entirely.
The poll found the Scottish public to be at odds with the current Government, with 56% of people opposing the legislation – 35% strongly so – while just 26% supported it.