Tens of thousands of junior doctors have gone on strike across England, with the NHS bracing itself for three days of mass disruption.
The 72-hour walkout, which began on Monday morning, will see operations and appointments cancelled for thousands of patients as doctors join picket lines outside their hospitals.
More than 100,000 appointments have already been postponed this winter after nurses took strike action in a dispute with the Government over pay, according to NHS figures.
The BMA says junior doctors' pay has fallen in real terms by 26% since 2008/09 and reversing this would require a 35.3% pay rise.
On Friday, Health Secretary Steve Barclay invited the BMA to talks but the union rejected the idea, saying there were "unacceptable" preconditions.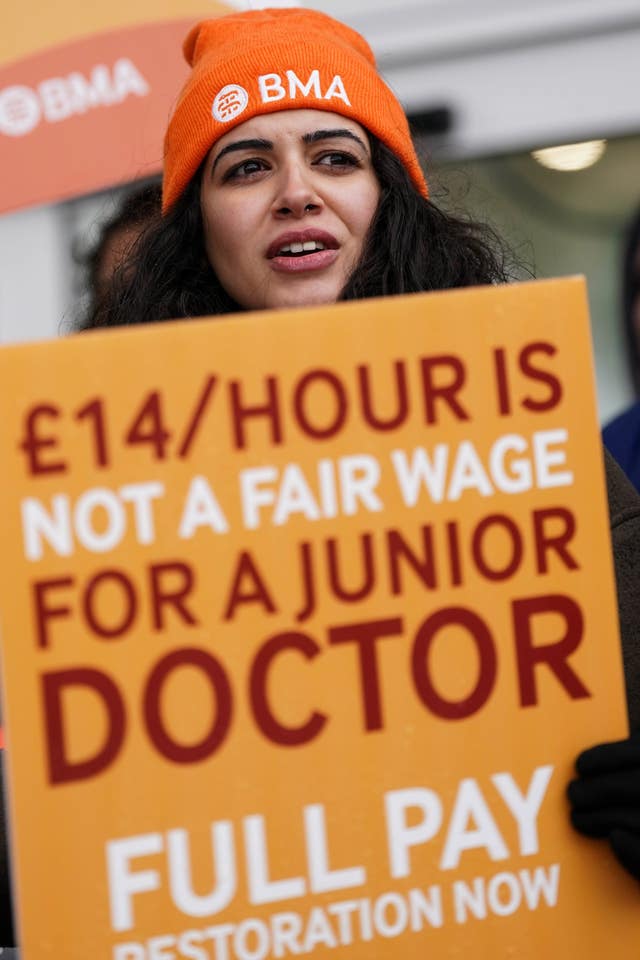 Junior doctors make up around 45% of the NHS's medical workforce and consultants and other medics have been drafted in to provide strike cover in areas such as A&E.
Professor Stephen Powis, medical director of NHS England, told Times Radio the health service will see "extensive disruption" over the next three days.
He said: "This is likely to be the most disruptive set of industrial action days that we've seen all winter.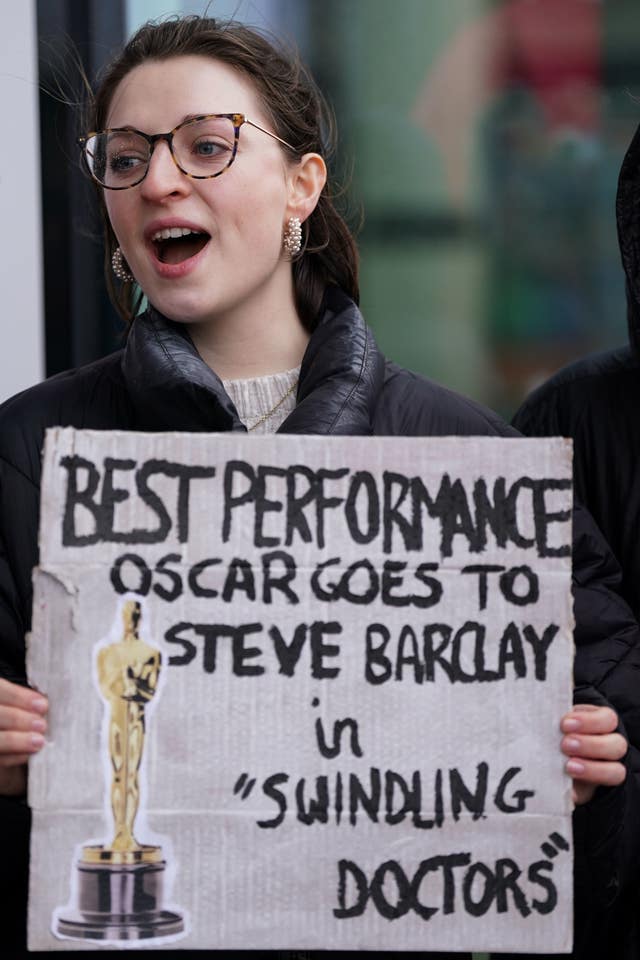 "We've been focusing on ensuring that emergency care, A&E departments, critical care, maternity services are maintained, but that's going to come, unfortunately, at the expense of other services, such as routine appointments and some surgery."
Prof Powis said cancer care is likely to affected by the strikes, saying the NHS is doing "everything we can to ensure that urgent cancer procedures go ahead but, unfortunately, even some of those may be affected this week, such is the extent of the disruption that we're likely to see".
"If that does occur, we will reschedule people as quickly as possible," he added.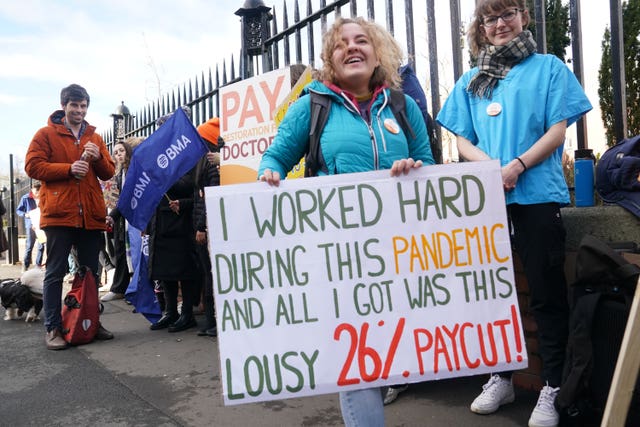 He added: "But for the overwhelming majority of our patients and operations, sadly we will have to postpone those so that we can reallocate our consultant body mainly to the front door – to the urgent emergency care 24/7 services."
Elsewhere, Sir Julian Hartley, chief executive NHS Providers, urged the Government and BMA to start negotiations to find a resolution to the dispute.
He said staff have faced enormous challenges in recent years and "pay has not kept up with inflation and the cost of living and we want to make sure that NHS staff are appropriately rewarded and remunerated given the incredible jobs that they all do".
Meanwhile, Professor Philip Banfield, the BMA's chairman of council, told BBC Radio 4's Today programme the NHS could be "safer than normal" for patients as junior doctors strike.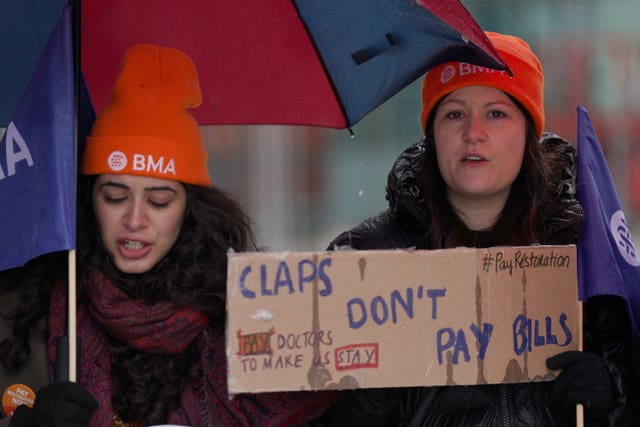 He later told the PA news agency from a picket line outside the Queen Elizabeth Hospital in Birmingham: "We have the worst crisis in the NHS that I have ever known and it's seeing junior doctors leave in their droves.
"The junior doctors' strike is so sad to see but they feel they have been driven to this."
Elsewhere, Dr Robert Laurenson, co-chairman of the BMA junior doctors committee, told Sky News the BMA wrote to Mr Barclay in August but did not meet until March.
He said that, on March 2, "he told us he didn't have a mandate and had to go back to the Prime Minister".
Dr Laurenson said Mr Barclay "sent me an email at 9.49pm (on Friday night) asking us to talk when we'd had a meeting with his civil servants earlier that day, which he didn't turn up to.
"We've gone to many meetings and he's only turned up to one. So for him to come out and say that we're not coming to the table is, frankly, disingenuous."
Dr Vivek Trivedi, co-chairman of the BMA's junior doctors committee, told ITV's Good Morning Britain the strikes are going ahead because junior doctors have faced more than a 26% real-terms pay cut over the last 15 years.
In its new campaign, the BMA says junior doctors can make more serving coffee than saving patients.
It said: "That is the message the Government is sending junior doctors by refusing to value them properly and address more than decade of real-terms pay cuts that mean newly-qualified medics earn just £14.09 an hour.
"This is in comparison to baristas at Pret a Manger, who can earn up to £14.10 an hour, after the coffee chain recently announced it has raised wages by 19% this year."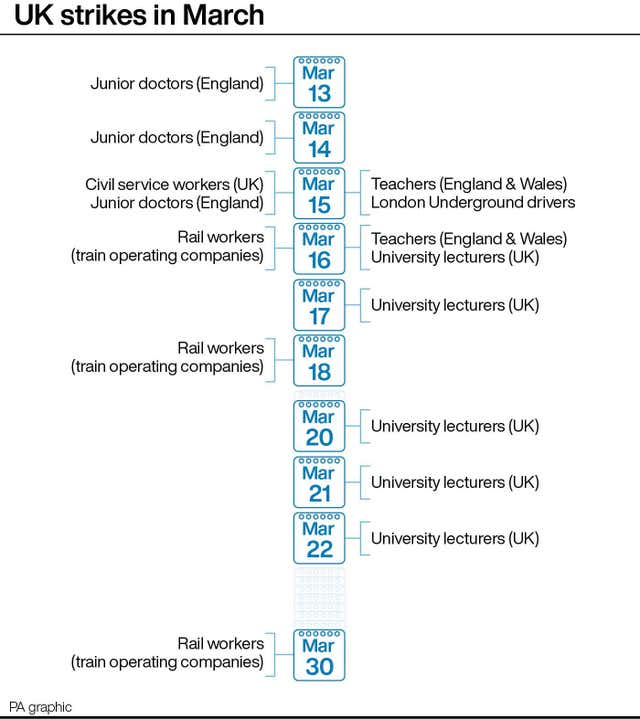 Rishi Sunak, speaking to Sky News while in San Diego, US, said: "I don't think it's right that there's so much disruption being caused to working families' lives.
"That's why I, as Prime Minister, introduced new laws to have minimum safety levels in our critical public services like rail, like education, like healthcare.
"It's precisely because I do think people should not be able to have that disruption in their lives that I'm putting that new law through Parliament."
It comes as members of several trade unions will strike on Budget day on Wednesday in what will be one of the biggest single days of industrial action for years.