A Conservative MP and leading campaigner on homelessness has warned the Government is not on track to end rough sleeping by 2024.
Bob Blackman, chairman of the All-Party Parliamentary Group on Ending Homelessness, cited recent figures suggesting an increase in rough sleeping and warned a strategy "revision" is needed.
The 2019 Conservative Party manifesto committed to ending rough sleeping by the end of this Parliament.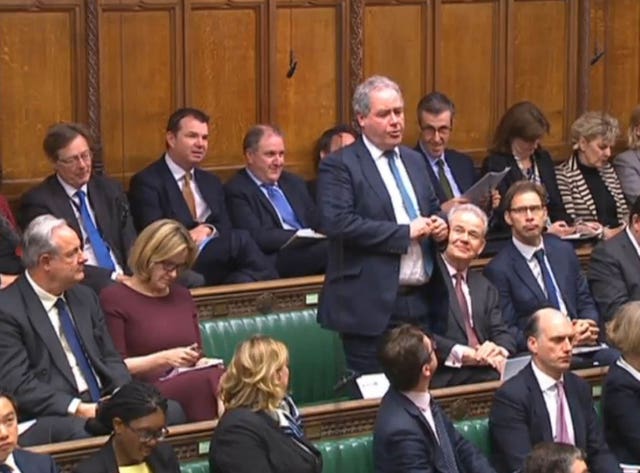 "One of the things homelessness charities, be it Crisis, Shelter or others, are flagging up is there's a risk here that we could miss the target and the people that are obviously in need of assistance are increasing all the time.
"There's a huge pressure at the moment on local authorities and others to actually get to a point of where we do achieve what we said we'd achieve."
Figures released at the end of February showed the number of people estimated to be sleeping rough in England had risen for the first time since 2017.
A snapshot of a single night in autumn last year found 3,069 people sleeping rough, up 626 (26%) on the equivalent total for 2021 and nearly three-quarters (74%) above the level in 2010 when the figures began.
Mr Blackman said: "With the cost-of-living challenges that are going on, with the position in relation to mortgages going up, with a shortage of private rented accommodation, and a huge shortage of socially rented accommodation, there is a threat that large numbers of people could end up sleeping rough or sofa surfing or other ways of hidden homelessness.
"And so what we've got to try and do is to say we can nip this in the bud – and there is time to deal with this before we face the electorate – but just throwing money at the problem is not going to fix it.
"We need a clear revision of the strategy to combat this, and at the moment it's not clear what that strategy is."
"We've done part of the job – 35% lower than we inherited, which is good news in terms of rough sleeping – but that hasn't achieved the end game, which we all want to see happen," he said.
Mr Blackman has been a vocal advocate for reducing homelessness, and was behind the 2017 Homeless Reduction Act, which strengthened obligations on local authorities and requires them to take "reasonable steps" to try to prevent or relieve homelessness by helping households to secure accommodation for at least six months.
A spokesman for the Department for Levelling Up, Housing and Communities said: "Rough sleeping remains well below pre-pandemic levels but we know there is more to be done to end rough sleeping for good.
"That is why we committed £2 billion to support the three-year cross-government strategy to tackle homelessness and rough sleeping.
"This includes the Rough Sleeping Initiative, which is providing up to 14,000 beds and 3,000 staff this year to areas in greatest need, offering tailored support to vulnerable people, including through access to accommodation, support through Housing First. and engagement with mental health and employment services."