Suella Braverman has faced pleas from Tory MPs to reform the Government's controversial asylum reforms to protect trafficked women, children and modern slavery victims.
The Home Secretary said the Illegal Migration Bill is needed as people arriving in the UK after crossing the Channel have "overwhelmed our asylum system", before adding there has been "too much" immigration in recent years.
Ms Braverman also told the House of Commons she has been subject to the "most grotesque slurs" for saying "simple truths" about the impact of migration on the country.
She added she will "not be hectored by out-of-touch lefties" who suggest a "person's skin colour should dictate their political views".
But Conservative former prime minister Theresa May warned modern slavery victims will be "collateral damage" and have the door shut on them by measures within the Bill.
Mrs May said she is expecting to hold further talks with Downing Street to resolve the issues, adding: "The Government is working hard I know to find a solution to the problem of small boats.
"But I think there are a number of reasons which shed doubt on the approach being taken."
Tory former minister Chris Skidmore, writing on Twitter, said he cannot vote for the Bill as he is "not prepared to break international law or the human rights conventions that the UK has had a proud history of playing a leading role in establishing".
Simon Hoare, MP for North Dorset, said that he and other Tory MPs will offer their support at the Bill's second reading on Monday evening on the basis that amendments follow.
Intervening during shadow home secretary Yvette Cooper's speech, Mr Hoare told the Commons: "There will be many on this side of the House, me included, who will vote for this Bill this evening, but with the clear understanding that we wish to see amendments to it as it progresses through Parliament, in particular in relation to women who are trafficked and to children.
"So, our votes are being given on good faith tonight in the expectation that the Bill could be amended."
Mr Hoare was among those nodding when Ms Cooper replied: "I do recognise that there are members on the benches opposite who are deeply troubled by many of the measures in this Bill."
The controversial Bill is designed to stop people claiming asylum in the UK if they arrive through unauthorised means and has been denounced by the UN's refugee agency as an effective "asylum ban".
Powers would be granted to detain migrants for 28 days without recourse for bail or judicial review, and then indefinitely for as long as there is a "reasonable prospect" of removal.
Challenges based on modern slavery laws would be barred, and any other legal attempt to stay would be heard overseas – after they are removed.
Opening the debate, Ms Braverman said "stopping the boats is my top priority", before adding: "The British people are fair, compassionate and generous.
"Millions of legal migrants, including my parents, have experienced this warmth first-hand. But the British people are also realistic – they know that our capacity to help people is not unlimited."
The Home Secretary added: "Since 2018, some 85,000 people illegally entered the United Kingdom by small boat – 45,000 of them last year alone. They have overwhelmed our asylum system. Local authorities simply do not have the housing or public service capacity to support everyone."
She said: "For too long, those of us voicing concerns about the effects of uncontrolled, unprecedented and illegal migration have been accused of inflammatory rhetoric. But nothing is more likely to inflame tensions than ignoring the public's reasonable concerns about the current situation.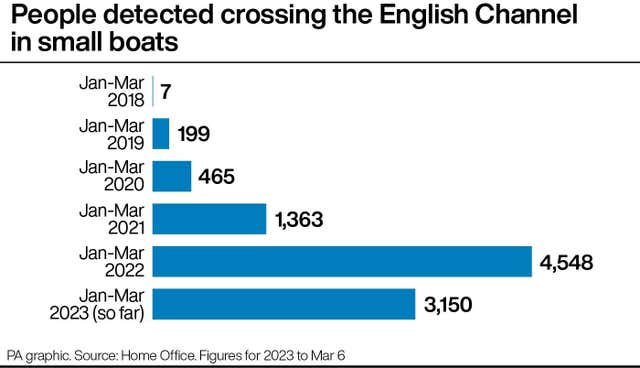 Ms Braverman went on: "It's perfectly respectable for a child of immigrants like me to say I'm deeply grateful to live here, to say that immigration has been overwhelmingly good for the United Kingdom, but that we've had too much of it in recent years and to say that uncontrolled and illegal migration is simply bad."
She later said the duty to remove "will not be applied to detain and remove unaccompanied asylum-seeking children".
Ms Braverman added: "Consistent with current policy, only in limited circumstances, such as for the purposes of family reunion, we will remove unaccompanied asylum-seeking children from the UK.
"Otherwise, they will be provided with the necessary support in the UK until they reach 18. With respect to the removal of families and pregnant women, it bears repeating that the overwhelming majority of illegal arrivals are adult men under the age of 40."
Conservative former security minister Sir John Hayes said: "Of course Britain should provide a safe haven for people in need, in genuine need. But it is a deceit to pretend the asylum system is not being gamed and the British people taken for a ride."
Labour's amendment to block the Bill at second reading has been selected.
Hundreds of protesters gathered in Parliament Square to protest against the Bill.
Zrinka Bralo, chief executive of Migrants Organise, said: "We are here to stand up for dignity and justice and speak out against this new Bill, which is further dehumanising and demonising refugees and is damaging our democracy."