Police officers who had been involved with Sheku Bayoh before his death were given results from his post-mortem examination despite refusing to give statements or complete notebooks beforehand, the inquiry into his death has heard.
Giving evidence for a third day, Detective Superintendent Patrick Campbell said the six officers who had been involved in the restraint of Mr Bayoh at Hayfield Road in Kirkcaldy, Fife, on the morning of May 3 2015 were given his post-mortem results for their own wellbeing.
Senior counsel to the inquiry Angela Grahame KC asked Mr Campbell if giving police officers who are witnesses the results of a post-mortem examination was something that was "normally done".
"(It's) not a normal process that I'm aware of, that we would normally tell witnesses the result of a post-mortem examination. Family, yeah, definitely," Mr Campbell replied.
Ms Grahame then asked: "Is it part of a process if you've got officers involved that you would tell them, if they're witnesses?"
Mr Campbell replied: "I'm aware it has been done before in respect of deaths in custody in that respect just round about the whole welfare and wellbeing aspect of it. But these aren't normal events."
"I can't recall exactly his rationale around it, but I think it was around the grounds of their welfare and they were obviously extremely traumatised and concerned exactly what had occurred around the restraint of Mr Bayoh," he said.
The initial post-mortem result showed the cause of Mr Bayoh's death as "unascertained" pending toxicology results and said there was "no evidence" of blunt force trauma to the head which could have been a contributory factor to his death.
Asking him to reflect on the decision to share the information, Ms Grahame asked Mr Campbell if he understood it could be seen to "influence" the officers' own accounts of the incident if they had not yet given statements.
"Yes," he replied.
He was then asked how that would impact upon his role as the senior investigating officer (SIO).
Mr Campbell said they were witnesses and the status had not changed throughout his involvement with them.
"There was no reasonable cause to suspect they had been involved in any criminality or any misconduct," he told the inquiry.
"From the very vague information we had, force had been reasonable."
Mr Campbell was then asked if there was a point where he had been in a position to exclude the idea that excessive force had been used on Mr Bayoh at that stage.
"There was not," he replied.
He was then asked if he could rule out the idea that excessive use of force had been used against Mr Bayoh because he was black.
"The hypothesis round about the restraint happening on him because he was black was not one of the hypotheses I have already mentioned to you," Mr Campbell said.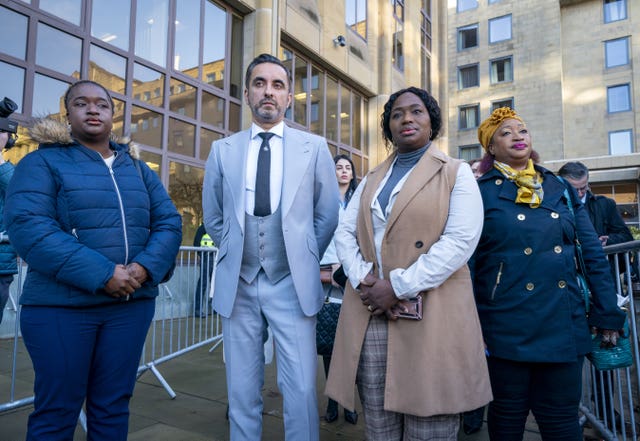 "The information I had at the time did not indicate in any way that it was racially motivated," he replied.
He was asked if it was something he had considered due to keeping an open mind which he said he did, but said that the officers' response at that time was proportionate in response to Mr Bayoh's behaviour.
Following this, Mr Campbell was asked about any actions he took in his role as SIO to encourage officers who had been involved to give operational statements or complete notebooks.
He was asked if he had considered using disciplinary processes as leverage in seeking the information from them.
Mr Campbell said he had never in 27 years of working with the police been refused an operational statement but said he was "still a bit puzzled" over how someone could be forced to give a statement.
On Tuesday afternoon, Mr Campbell continued his evidence and said Mr Bayoh's race was "paramount" in handling the incident in the days following his death.
He also said there was a "reluctance" to be more overt with the media strategy and that police could have been more pro-active in issuing statements and appealing for any witnesses or dashcam footage.
Mr Campbell said: "Saying very little or nothing at all assisted in that public perception of what we had.
"It's important we do get that right about how we can provide a more transparent overview of what has occurred.
"The public perception was that they were seeing very little coming from the investigation and I have no doubt that caused community unrest and mixed messages."
He revealed he had to ask Police Scotland's media team to immediately retract an allegation that an officer had been stabbed at the scene on May 3 as it had come from an "external source".
The inquiry before Lord Bracadale, continues.