Welfare reforms promising to help people into work without the worry of losing their benefits have been welcomed but the Government has been warned it must win back trust from disabled people who have faced "cruel sanctions" in the past.
Chancellor Jeremy Hunt announced what he described as the "biggest change to our welfare system in a decade" with the scrapping of the work capability assessment (WCA) to assess eligibility for sickness benefits.
The Government wants to switch the focus to what people can do rather than what they cannot, Work and Pensions Secretary Mel Stride said in a White Paper published alongside the Budget announcements on Wednesday.
Speaking in the Commons, Mr Hunt said half the vacancies in the economy could be filled with people who want to work but are inactive due to sickness or disability.
The Chancellor told MPs: "With Zoom, Teams and new working models that make it easier to work from home, this is more possible than ever before.
"So for that reason, the ever-diligent Work and Pensions Secretary today takes the next step in his groundbreaking work on tackling economic inactivity. I thank him for that, and today we publish a White Paper on disability benefits reform. It is the biggest change to our welfare system in a decade."
Mr Hunt also revealed sanctions reforms aimed at getting people on Universal Credit benefits into work.
He said: "Sanctions will be applied more rigorously to those who fail to meet strict work-search requirements or choose not to take up a reasonable job offer."
The Government said it will legislate to remove the WCA, meaning there is one health and disability assessment – the personal independent payment (PIP) assessment.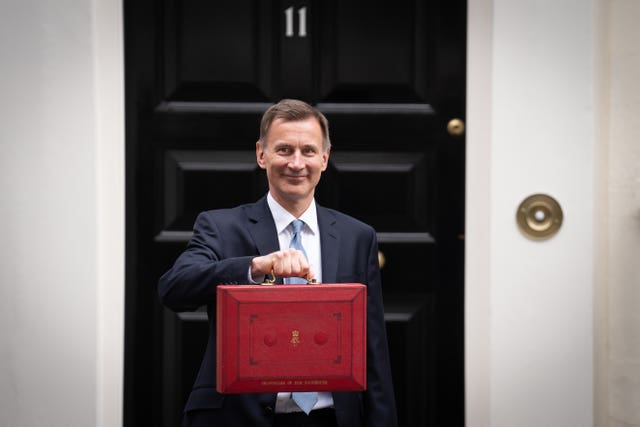 He said the Government "must make sure it doesn't replace one out-of-touch test with another" and insisted that "you can't sanction disabled people into work".
Mr Taylor added: "The Government has got a mountain to climb to win back the trust of disabled people. For far too long, disabled people have been faced with degrading benefits assessments, cruel sanctions and a dearth of tailored support to find suitable jobs.
"Disabled people face major barriers getting into work, such as discrimination from employers and long delays getting the right support. There is much work for the Government to do to get this right and rebuild trust."
Imran Hussain, director of policy and campaigns at Action for Children, welcomed a shift in tone from the Government on getting people back into work, but said the living standards of those who cannot work must be protected.
"We hope this marks a shift in the Government's thinking that work is the route out of poverty to also now recognising there are very real structural barriers like disability and caring duties preventing people working, as our analysis shows.
"While many parents from our services will welcome the childcare reforms, more will want the Chancellor to go further and faster to break down other barriers, and protect the living standards of those who can't work or can't work any more than they do already."
Devon father Paul Lane said he feels "possibly hopeful" and "slightly encouraged" about the changes, but added that he would need to see more detail on what it means for him and his family.
Mr Lane and his partner, who had to give up her job as an area manager for a coffee company in 2014 after developing chronic fatigue syndrome, live entirely on benefits but both said they want to be able to work.
He told the PA news agency: "I am concerned about the strengthening of sanctions for people refusing to look for work, and how that will be applied and interpreted."
His partner Fiona Tatchell said the announcements sound like "a good start" but questioned the situation for people who need "real flexible working, who couldn't guarantee a certain amount (of hours) every week".
Thirugnanam Sureshan, who lives in Bexhill-on-Sea in East Sussex, said even working from home would be a struggle for him.
The 50-year-old uses a wheelchair and said he suffers from a range of conditions including diabetes, sleep apnoea and cardiac problems.
Of the Chancellor, he said: "If he saw our situation he would know how we feel.
"There are too many complications on my side of things. Some days I might be able to deal with it (his health) but tomorrow I might be down or low in blood sugar or not able to work.
"I have got quite a lot of medical issues on my plate, I still have a lot of doctors appointments and hospital appointments. If I am going to take two or three days a week in hospital, obviously nobody is going to employ me."