Hundreds of thousands of workers will stage a strike on Budget Day in what threatens to be the biggest walkout since the current wave of industrial action started last year.
Members of several trade unions will take action, mounting hundreds of picket lines across the country amid continuing anger over issues including pay, jobs, pensions and conditions.
Those striking on Wednesday include teachers, university lecturers, civil servants, junior doctors, London Underground drivers and BBC journalists.
Despite talks being held between unions and the Westminster Government, the public sector strikes remain deadlocked.
Some of the strikes, such as those by teachers, will only be held in England as progress has been made in Wales and Scotland.
He said: "On Budget Day we're asking Chancellor Jeremy Hunt to give our hard-working members a fair pay rise.
"We've been given a 2% pay rise when food inflation was 16% last week. 40,000 civil servants use food banks and 45,000 claim in-work benefits because they're so poor.
"The Government can stop these strikes today by putting money on the table for our members.
"If they don't, our action will escalate. Where the Westminster Government has a direct involvement in disputes, very little progress has been made.
"Shamefully, ministers don't seem interested in giving their own employees a fair pay rise to help them through the cost-of-living crisis and beyond."
Mary Bousted and Kevin Courtney, joint general secretaries of the National Education Union said: "We do not want to go on strike – we want to be in the classroom, teaching and supporting children and young people.
"It continues to be a regret that our members have to take strike action, but we know that parents and the public understand the gravity of the situation around school funding and teacher recruitment and retention.
"The NEU, as we have always stated, is prepared to enter talks at any point, and as and when through negotiation a reasonable offer from Government is made we will pause strike action while the offer is put to members.
"This is exactly what happened last week in Wales. Gillian Keegan (Education Secretary) needs to take a leaf out of the Welsh Government's book, stop playing politics and get down to serious negotiation."
In a letter to the London mayor, RMT general secretary Mick Lynch said: "As you know, at this moment, London Underground managers are imposing new rosters across our Tube stations which are based on cutting 600 station staff jobs.
"In January, I wrote to you raising my serious concerns about the safety consequences of these cuts. Because they are now so short-staffed, managers appear to be mis-using waivers in order to override agreed minimum safe staffing levels at Tube stations.
"This means that stations are now opening with too few or, in some cases, no staff. I asked for a moratorium on these station staff cuts while an investigation took place, yet managers are proceeding with the use of the new rosters."
Finn Brennan, of Aslef, said the Government's failure to properly fund public transport in the capital is to blame.
He warned further strikes are "inevitable" unless the row is resolved.
Glynn Barton, Transport for London's chief operating officer, said: "Customers should check before they travel and we are advising them to expect very limited or no service on the Tube on Wednesday.
"The majority of TfL services will be running as normal but may be subject to last minute changes, including non-stopping at some stations shared with London Underground.
"Disruption should be expected on the Tube network into the morning on Thursday."
Meanwhile junior doctors in the British Medical Association will continue with a three-day stoppage they launched on Monday over pay.
NHS Providers chief executive Sir Julian Hartley said: "So far, so difficult for the NHS – but the health service is still there for patients.
"Unlike previous strikes, it's noticeable that there has been no let-up in the demand for care.
"Senior doctors are stepping into the breach but it isn't business as usual. For hospital patients that means it's taking longer for admissions and the discharge process is also slower.
"Ambulance handover delays are up too.
"We're seeing increased levels of cover by senior doctors in mental health and community services but it isn't sustainable and trust leaders are worried about 'burning goodwill'.
"The planning effort involved in preparing for the strike and keeping services going has been huge and has taken leaders' time away from other work. We can't go on like this. The knock-on effects of a three-day strike will be felt for a long time to come.
"We need the Government and the doctors' unions to come to an agreement quickly."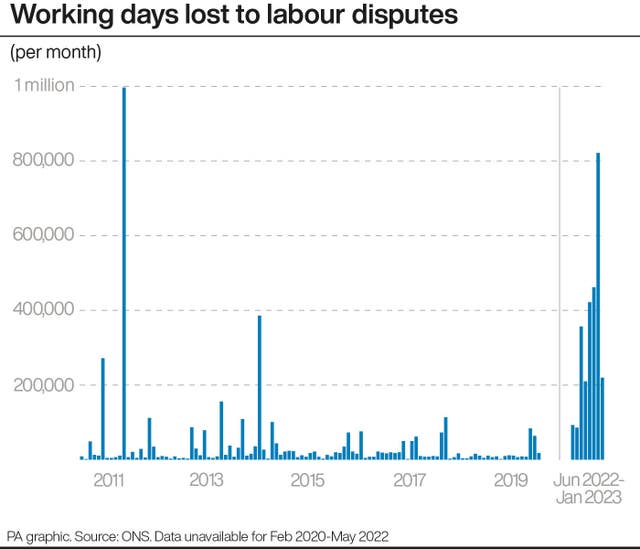 "Poor pay and declining morale represent an existential threat to the Civil Service's ability to function, and to our ability to regulate and deliver on the Government's priorities.
"Bills are rocketing and pay is falling ever further behind the private sector leaving our members with no option but to take industrial action.
"We will continue our campaign until the Government comes up with a meaningful offer. If it doesn't do so soon, we may be left with no Civil Service to protect."
Education Secretary Gillian Keegan said in an open letter to parents: "This industrial action will mean more disruption to children's education and to your lives too – whether that's work, arranging childcare or changing other plans.
"I am extremely disappointed that many young people will once again miss invaluable time learning with their teachers and friends, particularly after their education was significantly disrupted during the pandemic.
"It is made worse by the fact that this strike action is completely unnecessary. As I said to the NEU three weeks ago, I want to get around the table and engage in serious talks on teachers' pay and other issues to resolve disputes.
"My only condition was that strike action is paused so those discussions can take place in good faith and without disruption.
"This was the same offer, and the same condition, made to unions representing nurses, ambulance workers and physiotherapists. Those unions accepted that offer, paused their strikes and are now negotiating on behalf of their members in private.
"The NEU instead seems focused on strikes and all the needless disruption that brings.
"This morning I have written to the unions again to invite them to have those talks on Wednesday and Thursday this week – all they need to do is call off strikes which are unnecessary and benefit no-one."
RMT general secretary Mick Lynch said: "I congratulate all our London Underground members who have taken part in this strike action today.
"It shows how determined we are to reach a negotiated settlement to this long-running dispute.
"Attacks on pensions, conditions and job losses will not be tolerated and the travelling public needs to understand that understaffed and unstaffed stations are unsafe.
"We will continue our industrial campaign for as long as it takes."