A strike by London Underground drivers has closed the entire network.
Transport for London's website shows no services are running on any Tube lines.
The Docklands Light Railway and Elizabeth line were temporarily part-suspended on Wednesday morning because of the industrial action but later operated a good service.
Speaking at Prime Minister's Questions, Conservative Bob Blackman (Harrow East) asked Rishi Sunak if he would join him in condemning the strikes which he said "have brought misery to the travelling public", and also condemning London Mayor Sadiq Khan "for his failure to address this".
The Prime Minister said: "(Mr Blackman) is absolutely right about the misery being inflicted on Londoners by the incompetent running of TfL."
He said the Mayor has received £6 billion in additional funding for transport services, adding: "So for us to be in a situation that we find ourselves in today is simply unacceptable."
Geolocation technology company TomTom said traffic in London is lighter than normal, indicating that many people who usually commute on Wednesdays are working from home instead.
The congestion level – which represents the proportion of additional time needed for journeys compared with free-flow conditions – was 78% at 8am, down from 84% a week earlier.
Aslef district organiser Finn Brennan said Tube drivers are "absolutely determined" to fight for their working conditions and pensions.
Speaking alongside other union members on a picket line outside Brixton station in south London, he said: "The fundamental issue in this dispute is the failure by the Government to properly fund Transport for London.
"Post-pandemic they've been left with a massive hole in their budget, and they're trying to fill that hole by cutting staff numbers, cutting staff working conditions and cutting staff pensions.
"We're happy to discuss and negotiate changes, but our members won't accept change being forced upon them.
"So what we're looking for from this dispute is TfL to accept that changes have to come about by negotiation and by agreement, not be imposed upon staff."
Mr Brennan, who has worked for London Underground for 33 years, added: "It's certainly the biggest strike that's taken place since probably the late '80s or early '90s, and there's really strong support from our members, who are absolutely determined to protect their working conditions and their pensions.
"We haven't announced any other action yet, but unless TfL accept that change can only come about by agreement then I think we can expect to see more taking place over a long period of time.
"Our members are very, very determined."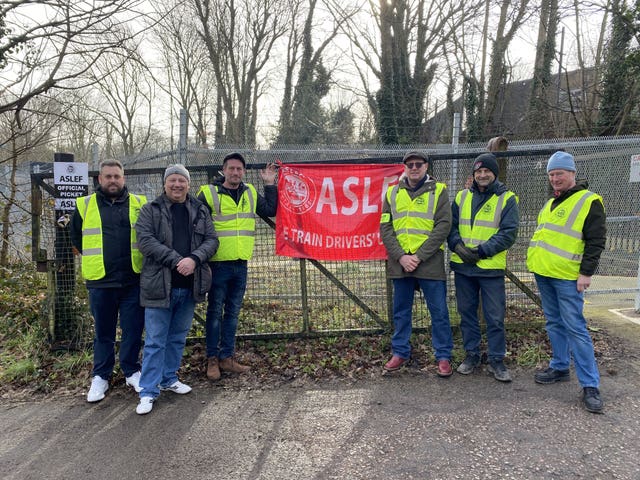 "It shows how determined we are to reach a negotiated settlement to this long-running dispute.
"Attacks on pensions, conditions and job losses will not be tolerated and the travelling public needs to understand that understaffed and unstaffed stations are unsafe.
"We will continue our industrial campaign for as long as it takes."
A spokesperson for the Mayor of London said: "No one wants to see strikes, and the disruption across the country this week is particularly bad news for many of the capital's businesses who are struggling with inflation and the cost of doing business.
"The mayor has repeatedly made clear that the Government's insistence on including a review into pension reform as part of the emergency funding deal for TfL was unwarranted and had the potential to lead to this kind of industrial action."