The UK will avoid entering a recession Jeremy Hunt said as he hailed an economy "proving the doubters wrong", although growth remains sluggish.
The Chancellor used the improved economic picture to promise an extension of support for household energy costs and a major expansion of free childcare.
He said the economy would avoid a technical recession, although the Office for Budget Responsibility (OBR) still forecast a contraction of 0.2% this year, a significant improvement on the -1.4% predicted in November.
The OBR also upgraded its growth forecast for 2024 from 1.3% to 1.8%, but downgraded predictions for the following years to 2.5% in 2025, 2.1% in 2026 and 1.9% in 2027.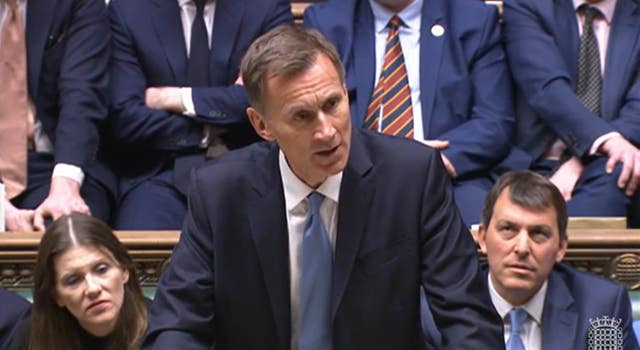 It had been due to rise to £3,000 in April and the cost of scrapping the planned 20% increase will amount to about £3 billion.
The Chancellor also announced 30 hours of free childcare for all under-5s from the moment maternity care ends, where eligible.
And as part of his plans to get older people back into work, the Chancellor announced plans to abolish the lifetime allowance limit on pensions.
Mr Hunt said the changes would "stop over 80% of NHS doctors from receiving a tax charge" and incentivise "our most experienced and productive workers to stay in work for longer".
The fuel duty freeze and the 5p cut will be maintained for another year, saving the average driver around £100.
Taking advantage of tax flexibility since leaving the European Union, a "Brexit pubs guarantee" will see duty on draught products up to 11p lower than in supermarkets.
The OBR forecasts that inflation in the UK will fall from 10.7% in the final quarter of last year to 2.9% by the end of 2023, partly due to the impact of the cost-cutting measures.
Opening his Budget statement, Mr Hunt told MPs: "In the face of enormous challenges, I report today on a British economy which is proving the doubters wrong."
A technical recession – two quarters of negative growth – will be avoided, the OBR said.
Mr Hunt added: "They forecast we will meet the Prime Minister's priorities to halve inflation, reduce debt and get the economy growing. We are following the plan and the plan is working."
He said improvements in the picture for the public finances meant "more money for our public services and a lower burden on future generations".
He also told MPs:
– Underlying debt is forecast to be 92.4% of gross domestic product (GDP) next year, 93.7% in 2024-25; 94.6% in 2025-26, and 94.8% in 2026-27, before falling to 94.6% in 2027-28.
-The deficit falls from 5.1% of GDP in 2023-24, to 3.2% in 2024-25, 2.8% in 2025-26, 2.2% in 2026-27 and 1.7% in 2027-28.
– Some 12 new investment zones will be created, offering up to £80 million of support each for tax breaks and incentives.
– A new policy of "full expensing" will mean that every single pound a company invests in IT equipment, plant or machinery can be deducted in full and immediately from taxable profit, a cut worth an average of £9 billion a year for every year it is in place.
Corporation tax is due to increase from 19% to 25% in April, but Mr Hunt believes the targeted support will be able to offset some of that rise for firms that invest.
It is "the most generous capital allowance regime of any advanced economy", he told MPs.