Labour leader Sir Keir Starmer has accused successive Conservative prime ministers of being "negligent" in reforming policing in light of the "grim detail" of the Casey report.
Speaking at a press conference at the Labour party headquarters in central London on Tuesday, Sir Keir said policing is "collapsing" after 13 years of Tory government.
"Successive Conservative prime ministers have diminished the fight against crime and done nothing to reform the police," he said.
"In short, they've been negligent."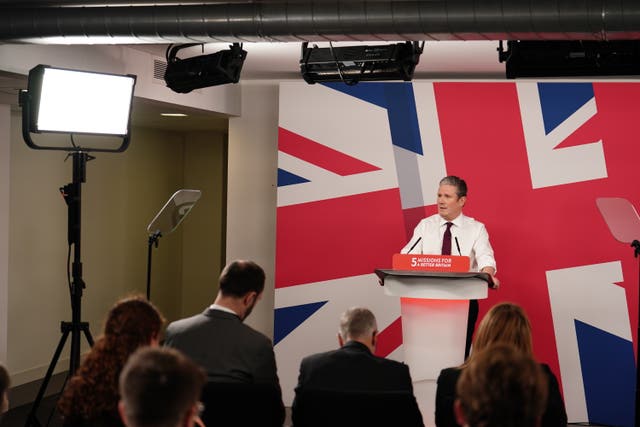 "They are not really accepting the findings in full, therefore I don't think they will actually do the structural change that's needed because they're still in the sort of bad apples theory rather than accepting the institutional nature of this," he said.
The Opposition leader pledged that a Labour government would accept the findings of the report in full and would work with the Met Police and forces across the country to make "deep reforms and changes".
He announced that one of his party's five missions would be to "raise confidence in every police force to its highest level".
Sir Keir called it "extraordinary" that even after "terrible examples" of violence against women by police officers, there are currently no mandatory national rules for police forces on vetting.
The Labour leader also pledged to bring in stronger accountability regimes to turn around failing forces; rebuild neighbourhood policing with 13,000 more police; get specialist 999 call handlers, trained in domestic violence, in every police control room; and set up a dedicated, specialist rape unit in every police force in the country.
He referenced his previous work as a legal adviser to the Northern Ireland Policing Board and the Association of Chief Police Officers, in which he was involved in transforming the Royal Ulster Constabulary to the Police Service of Northern Ireland.
"If we can get Catholics to serve in Northern Ireland, reach out across communities there, then I will not accept any special pleading that the Met cannot represent modern London," Sir Keir said.
He said: "There will be police forces, outside of London, who might shrug their shoulders and say 'this isn't us'. But I have worked in criminal justice for decades and I say to them: wake up."
The Labour leader went on to say that Baroness Casey catalogued "in grim detail" the culture and practices of a Met Police force that has "lost its way".
He referred to findings that "predatory" behaviour has been "allowed to flourish", that there have been failures to root out police officers who "committed the most terrible and unthinkable crimes" and that public protection failures have put women and girls "at greater risk".
"Across the force she found institutional racism, institutional misogyny and institutional homophobia," Sir Keir added.
He told the press conference that Met Police Commissioner Sir Mark Rowley has Labour's support in trying to reform the force.
"But he must go further and faster and he will have our support in doing that," Sir Keir said.
The Conservative Party has been contacted for comment.